This week, we celebrate my favorite holiday with tricks and, most importantly, treats!  In addition to, or in place of the traditional trick-or-treating, many parents and communities are holding Halloween parties.  These fun events are a terrific way to introduce something other than the typical candy snacks to your little goblins and ghosts.  Before you give this idea the "thumbs down," I've provided a few sample treats to show you that healthy doesn't have to mean boring or tasteless.  Take a look at these selections and I think you'll agree that they capture the Halloween spirit and will have your kids digging in (and you won't mind if they go back for seconds!).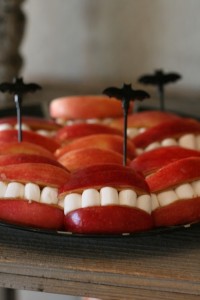 These "apple smiles" are made by combining two apple slices with peanut butter and mini marshmallows.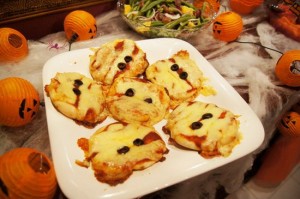 "Mummy" pizza are a great party entree and can be quickly prepared by using whole grain English muffins, low-fat mozzarella cheese, tomato sauce and black olives for the eyes.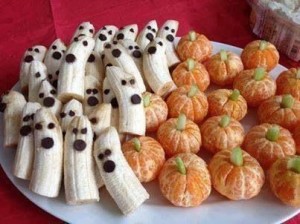 Ghosts and mini pumpkins are created out of bananas and clementines.  Mini chocolate chips and raisins are used for the ghosts and a small piece of celery is used for the pumpkin stem.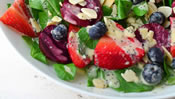 Who doesn't like chocolate dipped strawberries?  These little ghosts are made from white chocolate and milk chocolate is then used for the eyes and mouth.  They're sure to disappear at your event!
Enjoy and for more fun Halloween party ideas, visit Pinterest and search for "Halloween foods."
See all posts