Americans love their dogs!  According to the American Veterinary Medical Foundation, as of 2012, 43,346,000 households owned at least one dog.  That's 36.5 percent!  And, if you're a dog lover like myself you know that your furry friend is part of the family.
It's common knowledge that protein plays a big role in a dog's diet, but you may have noticed the recent trend of adding fruits and vegetables along with, or in place of, other fillers that are traditionally added to dog food. This is because those vitamins and minerals in fruits and veggies that are so good for us also benefit our canine companions. However, it's important to recognize that not all fruit and veggies are beneficial to dogs–some can actually be toxic to their systems. According to the ASPCA, the following fruit and vegetables are hazardous to your dog:
Avocado
Grapes and Raisins
Macadamia Nuts
Onions
Garlic
I'd also like to note that listed at my vet (and on other websites) are mushrooms, as they contain toxins so I would stay away from these.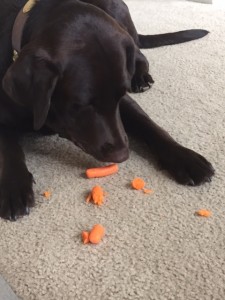 My dog, Barney, enjoying a healthy snack.
As with people, even with the fruit and veggies that are beneficial, you need to be careful what you give your dog and the amount, in order to avoid stomach upset.  My chocolate lab, Barney Rubble, enjoys snacking on baby carrots and I'm sure he'd eat the entire bag if I let him, but I limit it to 4 or 5.  A small dog would do fine with 1 or 2.  I think they enjoy the "crunch" of the carrot and it satisfies the desire to chew on something.  A larger carrot would work well for this too.  I've pulled together a few recipes for homemade dog biscuits that add fruit and veggies in the mix.  The ingredients are much healthier than the store bought version (and much cheaper than the healthy versions you'll find at the specialty stores).*
Apple Carrot Dog Biscuits are made with whole oats, whole wheat flour, grated apple and carrot, an egg, vegetable oil, water, and a bit of brown sugar (you can leave this out if you choose).  Yes, you could eat these "dog" biscuits if you wanted–they're that good!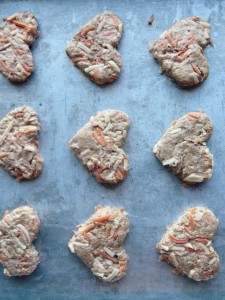 Photo courtesy of Reluctant Entertainer
Pumpkin Oat Dog Biscuits are perfect for the fall season.  Four ingredients–whole wheat flour, whole oats, pumpkin puree, and water are combined together in this simple recipe.  You'll feel good about giving your dog a healthy treat with no preservatives that's economical too.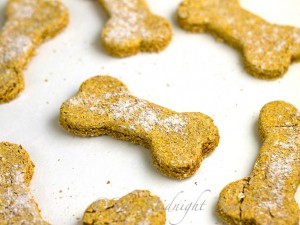 Photo courtesy of Bake At Midnite
If you have a dog, give these recipes a go, I'm sure your pup will enjoy the special treat. 
*It's recommended that treats, including fruits and vegetables, should be given to your dog in moderation, as it's important to maintain a nutritionally balanced diet. It's also a good idea to consult with your vet before adding new foods.
I'll return next week with some ideas for seafood and fruit/veggies that go well with them.
See all posts