Now that we've officially entered the spring season, you'll notice different fruit and vegetables will become plentiful at your supermarket.  One of the first veggies to come into season during spring are snow peas, also known as Chinese pea pods.  Years ago, these popular veggies were difficult to find–you would only see them in Chinese restaurants, but now they are available everywhere.  Snow peas are a nutritious vegetable option as they are low in calories (1/2 cup cooked is only 35 calories), fat free, cholesterol free, sodium free, an excellent source of Vitamin C, and a good source of iron and manganese.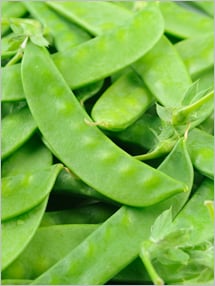 Courtesy of Fruits & Veggies–More Matters
Though we typically think of adding snow peas to a stir fry, there are other ways of enjoying these tasty veggies as well.  Snow Pea, Grapefruit and Orange Salad is a refreshing dish that works well as a side or a light lunch.  Snow peas, orange, grapefruit, and red onion are combined with a dressing made from white wine vinegar, honey, minced ginger, olive oil, salt, and pepper.  Top with toasted sunflower seeds for extra crunch.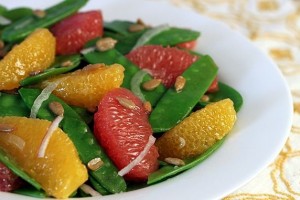 Courtesy of The Yummy Life
Honey Pecan Stuffed Snow Peas make a perfect party appetizer.  The filling is made from roasted, finely chopped pecans, cream cheese, honey mustard, cayenne pepper, and brown sugar.  You'll blanche the snow peas and carefully pipe in the filling before sprinkling pecans on top.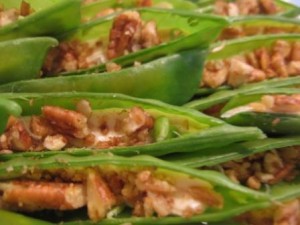 Courtesy of Rosemary and the Goat
Garlic Snow Peas are the ideal weeknight side dish as they are ready in five minutes and require only a few ingredients.  Simply boil the snow peas for one minute and drain.  In the meantime, add one teaspoon of sesame oil in a wok or fry pan, heat and add three cloves of garlic minced.  As you begin to smell the aroma of the garlic, add the snow peas, a bit of salt, and stir so that everything mixes well.  Transfer everything out of the pan to a serving plate and garnish with toasted sesame seeds.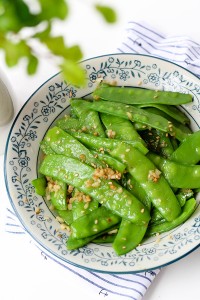 Courtesy of China Sichuan Food
If you want even more ways to enjoy snow peas, Fruits & Veggies–More Matters has their Top 10 Ways.  So, get out to your local grocer and grab this tasty veggie while they're in season and I'll be back next week with some delicious kebab recipes that feature fruit, veggies, meat, and seafood.
See all posts