November 1st is World Vegan Day.  Vegans, in addition to not consuming any meat, poultry, or fish, also avoid any animal products and by-products like eggs, dairy, and honey.  While this may seem like a restrictive diet to many, there are a variety of delicious options due to the wide array of fruit, vegetables, and grains available.  It's important for vegans to be selective in obtaining the right combination of foods in order to get the required protein.  Legumes and soy are wonderful options.  In addition, many traditional recipes can be reworked and made vegan.  I've collected a few entrée recipes that highlight this kind of diet, which don't omit flavor in the least.
So many of us love Fettuccine Alfredo, but hate the fat and calories that come with it.  Vegan Garlic Alfredo with Asparagus and Peas has the creamy goodness, minus the all the bad stuff.  The sauce is actually made by blending cooked cauliflower, vegetable broth, sautéed garlic and olive oil, almond milk, nutritional yeast, salt, and pepper.  You'll cook the asparagus and peas in a little olive oil with some chopped garlic until tender and add to cooked fettuccine.  Combine with sauce and top with some fresh herbs.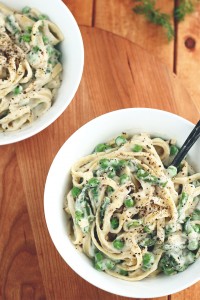 Courtesy of I Love Vegan
Turmeric Rice Burrito Bowls are bowls filled with a healthy variety of veggies and grains.  You'll make your own pico de gallo from fresh tomatoes, red onion, jalapeno, lemon juice, lime juice, chopped cilantro, and salt.  The bowl is filled with chopped kale, olive, oil, red onion, bell pepper, corn kernels, cooked lentils, canned black beans, cooked brown rice.  Spices you'll add include, turmeric, garlic salt, cumin, chili powder, and cayenne pepper.  You can also top this with cashew "cheese" that you'll make from raw cashews that have been soaked, lemon juice, nutritional yeast, water, and salt.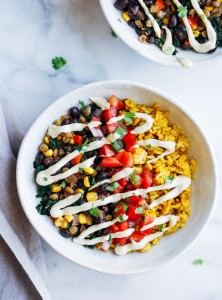 Courtesy of Making Thyme for Health
Pot pies are one of the ultimate comfort foods.  These 1-Hour Vegan Pot Pies are quick, easy, and …that's right, vegan!  You'll combine sautéed onion and garlic with flour and vegetable broth.  Add in almond milk and two bay leaves and let simmer until the mixture has thickened. Once it's reached the right consistency, add mixed, frozen vegetables and cook for 5 more minutes.  Adjust seasonings with salt and pepper.  Discard bay leaves and add the mixture to a baking dish or individual ramekins.  Top with puff pastry or biscuit topping and place on a baking sheet in case the filling overflows.  Bake for 15-17 minutes, until the pastry is golden brown and the filling is bubbly.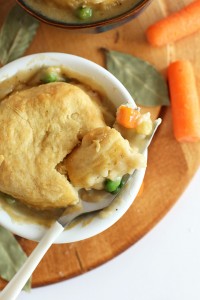 Courtesy of Minimalist Baker
I'll return next Monday with some healthier options for the nacho lover.
See all posts