Thanksgiving week has finally arrived!  While there are many favorite side dishes, no Thanksgiving feast would be complete without stuffing.  I know many of you have a tried and true recipe–maybe it's a traditional bread stuffing or a cornbread and sausage version, but I've collected some really interesting and tasty stuffing recipes that include fruit and/or veggies.  In fact, a few of these are different enough you might even consider making them in addition to your usual version.  Take a look:
Cranberry Apple Stuffing:  Ever need oven space for all the dishes you have to prepare on Thanksgiving?  Then you'll love this recipe since it uses your slow cooker (crock pot) to do the cooking.  This recipe has a bread base, but also uses dried cranberries and chopped apple along with the usual chopped celery and herbs.  The end results is a sweet/savory blend.

Photo courtesy of House of Yumm
Quinoa Stuffing with Butternut Squash, Cranberries and Pistachios:  Full of fiber, gluten free and ready in 45 minutes–I'd say this is a winner!  In addition to the quinoa, squash, cranberries and pistachios, this recipe also calls for diced red onion, chopped fresh spinach, garlic and orange zest.  It's really packed with flavor.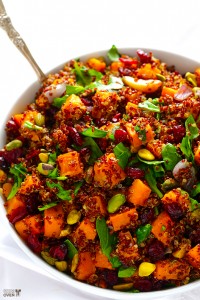 Photo courtesy of Gimme Some Oven
Apple-Thyme Wild Rice Stuffing: Wild rice is another popular filling and this recipe uses it along with cubed whole wheat baguettes.  Leeks, apples, onions, thyme and toasted pecans round out this flavorful stuffing.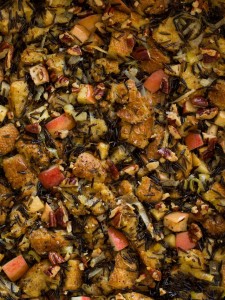 Photo courtesy of Spoon Fork Bacon
Rosemary Whole Wheat Stuffing with Figs and Hazelnuts: All the flavors of fall is how I'd describe this stuffing recipe.  In addition to the figs and hazelnuts, you'll add onion, dried cranberries, garlic and a bit of tawny port for extra flavor.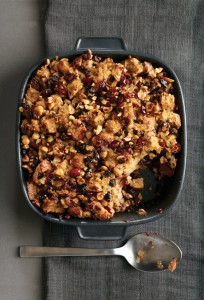 Photo courtesy of Vegetarian Times
Artichoke Fennel Leek Stuffing: If you really want to try something a bit different this is a recipe for you.  Artichoke hearts, diced leeks and diced fennel bulbs are combined with onion, celery, garlic, parsley, thyme and other seasoning, as well as a bread cube base.  The distinctive flavors of the fennel and artichokes with give this stuffing a unique flavor.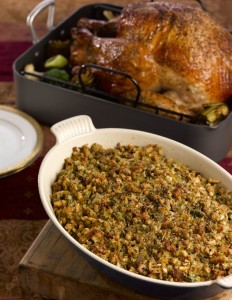 Photo courtesy of Ocean Mist
I wish everyone a wonderful Thanksgiving.  Enjoy the holiday with your family and friends and I'll return next week with a look at pomegranates–their nutrition and some delicious recipes.
See all posts