It's hard to believe, but next Monday is July 4th.  Traditionally that means we celebrate with some form of barbeque or picnic with friends and family.  While we usually feature the typical grill fare (kebabs, burgers, hot dogs) and salads, I thought it would be fun to also feature some menu items that display the patriotic flare of the holiday.  Of course I'm talking about going with a red, white, and blue theme.  Thankfully, so many fruit and veggies are colorful, so it's not too difficult to accomplish this.  I've found a few recipes I think your guests will enjoy, both from a taste and "fun" perspective.
Red, White, and Blue Salad is super simple to make.  You'll need chopped romaine lettuce, blueberries, chopped strawberries, and feta cheese.  Toss together and add your favorite salad dressing.  This recipe uses Trader Joe's Sweet Poppy Seed dressing, but you can create your own by using equal parts of olive oil, Dijon mustard, and white balsamic vinegar.  Whisk together and add fresh cracked black pepper and salt to taste.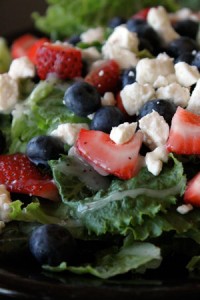 Courtesy of Green Lite Bites
This American Flag Vegetable Tray is a healthy appetizer option.  You'll need cucumber, radishes, cauliflower, grape tomatoes, and red bell peppers.  Arrange the veggies on a cookie tray and then you can create a homemade dill dip using fat free sour cream, mayonnaise, light cream cheese, fresh dill, fresh parsley, minced onion, a little salt, and a few drops of blue food coloring.

Courtesy of Living Locurto
Red, White, and Blueberry Yogurt Popsicles are a great July 4th dessert option.  All you'll need are raspberries, blueberries, and vanilla flavored Greek yogurt for this recipe.  You'll need to use your food processor or blender to make the fruit smooth.  In popsicle molds you're going to layer the yogurt and each of the fruit a little at a time and then freeze each layer (it will take about an hour for each layer).  Once all the layers are in, freeze until completely solid and serve.  The process is tedious, but the result is well worth it.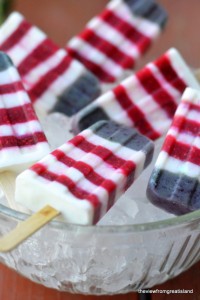 Courtesy of The View from Great Island
Have a happy July 4th and I'll be back next week with some recipes that make good use of those delicious tomatoes from your garden.
See all posts