While I don't shy away from pasta (I wrote an entire cookbook dedicated to my love of Italian cuisine), trust me when I say that you won't miss the noodles in these low-carb zucchini roll-ups. Thin layers of zucchini are covered with a cheesy ricotta filling, then tucked into marinara sauce and baked with mozzarella cheese. It's noodle-free lasagna with minimal effort.
To get the zucchini thin enough to roll up, you'll need to use either a mandolin, sharp knife or a vegetable sheet slicer. I recently purchased one to make zucchini lasagna all summer, but you don't have to have a special piece of equipment for this recipe. To cut the zucchini using a knife, trim the ends and peel. Hold the zucchini lengthwise, slicing into 1/8th inch strips, moving around the zucchini as you go. Discard the center, and repeat with the remaining zucchini.
Since zucchini holds a lot of water, you'll want to remove some of it so your roll-ups don't turn into a soupy mess. I line a plate with paper towels, then place the zucchini on top and sprinkle with salt. The salt draws the water out of the cells, allowing you to easily pat it away before rolling. Let the zucchini sit for at least 10-15; you can use the time to make the ricotta filling and prep the baking dish.
Check out my facebook live video to see a live demonstration of this recipe.
Zucchini Ricotta Roll-Ups

Ingredients
1 (15 ounce) container part-skim ricotta cheese
1 large egg
pinch grated nutmeg
½ cup chopped basil
1 garlic clove, minced
2 large zucchini, peeled and sliced very thin
2 ½ cups marinara sauce of choice
1 cup shredded mozzarella cheese
Directions
Slice the zucchini into very thin strips. You can do this using a mandolin, a vegetable sheet slicer or a sharp knife. The strips should be no longer than ~6-8 inches long; cut them if needed.
Lay strips on a paper or kitchen towel and sprinkle with salt. Let sit for at least 10-15 minutes until the zucchini starts to "sweat," where water will be drawn to the surface. Pat the zucchini dry and set aside.
Whisk together the ricotta cheese, egg, nutmeg, basil, garlic and a pinch of salt and pepper.
Preheat the oven to 375 degrees F. Pour 1 cup of marinara sauce in the bottom of a large baking dish.
Spread a thin layer of the ricotta mixture on the zucchini, then roll up. Place the zucchini seam-side down in the baking sheet and repeat with the remaining zucchini. Cover with the remaining marinara sauce and cover with cheese. Bake for 30 minutes until zucchini is soft and cheese is melted and lightly browned.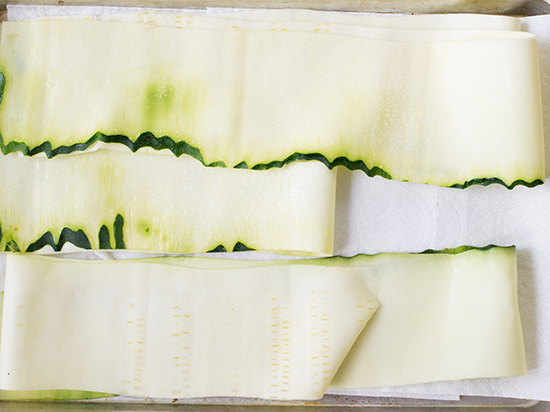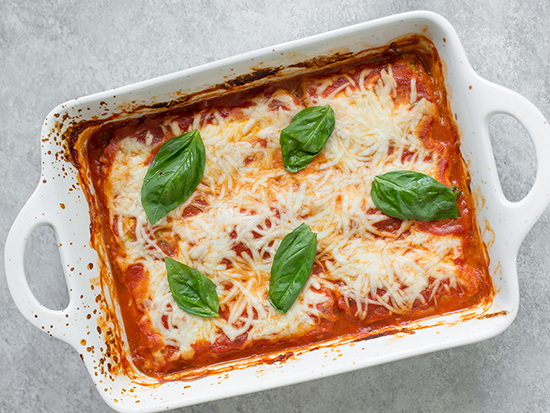 Nutrition Info
Per serving: 306 calories, 16g fat, 8g saturated fat, 7g unsaturated fat, 102mg cholesterol, 1027mg sodium, 17g carbohydrates, 4g fiber, 9g sugar, 24g protein
Photo Credit: Alex Caspero