Alex Caspero, MA, RD, CLT
Everyday Chef, Fruits & Veggies—More Matters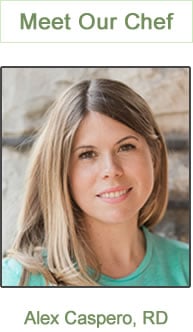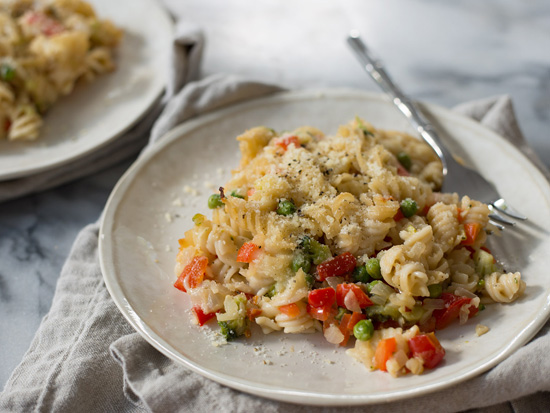 Mac & Cheese, the classic family favorite, gets a veggie makeover: whole wheat noodles in a creamy cheese sauce, studded with colorful bits of peppers, broccoli and peas. While almost any combination of vegetables will work, I love the beautiful red and green combo seen here.

For extra flavor, I call for a sprinkle of crushed red pepper flakes. However, if you have little ones or those who don't enjoy spice, feel free to leave it out. With whole wheat pasta, creamy sharp cheddar, and a heap of hearty vegetables, this macaroni and cheese is delicious and perfect for chilly evenings. Make it as a side dish or enjoy as a meatless dinner. If desired, you can toss in pre-cooked diced chicken, steak or beans for a filling all-in-one meal.



This recipe was tested using both whole wheat and gluten-free pasta, flour and breadcrumbs, with both versions coming out great. This veggie mac & cheese casserole also freezes well, so it's easy to make ahead of time for meals throughout the week. To bake from frozen, increase cooking time to 40-45 minutes.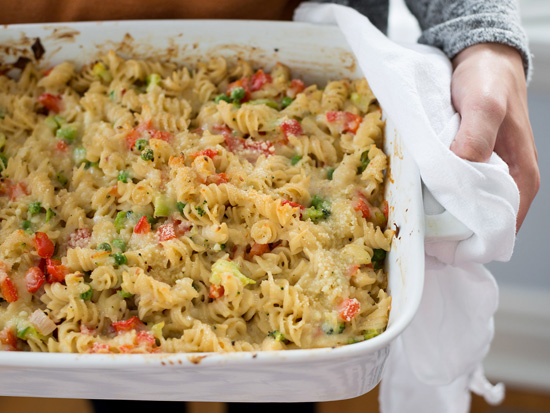 Veggie Mac & Cheese Casserole Recipe

Ingredients
3 cups whole wheat rotini pasta
2 tablespoons butter, divided
1 medium onion, diced
2 red bell peppers, diced
4 cloves garlic, finely chopped
1/4 tablespoon red pepper flakes, or more or less to taste
½ cup frozen peas
1 cup frozen broccoli
2 tablespoons whole wheat flour
2 cups lowfat milk
3 tablespoons butter, divided
1 cup white cheddar cheese, grated
¼ teaspoon salt, or to taste
¼ teaspoon pepper, or to taste
¼ cup Parmesan cheese, grated
¼ cup Panko bread crumbs

Directions
Preheat oven to 375° F.

Bring large pot of salted water to a boil. Add in pasta and cook per package instructions until al dente. Set aside.

While the noodles are cooking, heat 1 tablespoon butter in a large pot. Once butter has melted, add onions, red pepper, garlic, and red pepper flakes. Sauté until onions are soft and slightly browned, about 6-8 minutes. Add in the frozen peas and broccoli and remove from heat. Set aside.

In a separate pot, melt the remaining 2 tablespoons of butter over medium heat. Add in the flour to make a golden brown paste, stirring often until smooth. Then, gently whisk 2 cups milk into the roux, stirring until milk is fully incorporated. Stir often, until sauce thickens, about 3-5 minutes. Slowly add in the shredded cheese and mix well until cheese is melted. Season to taste with salt and pepper.

Add the cooked pasta and sauce to the vegetables and stir until generously coated. Stir in the parmesan cheese. Place into a casserole dish and sprinkle with breadcrumbs. Bake for 20 minutes until golden brown. Remove from oven and let sit for 5 minutes before serving.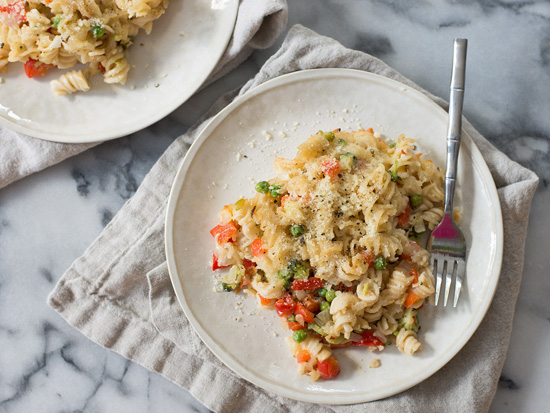 Nutrition Info
Per serving (8): 318 calories, 14.6g fat, 8.6g saturated fat, 70mg cholesterol, 308mg sodium, 257mg potassium, 34.8g carbohydrates, 2.1g fiber, 4.1g sugar, 12.5g protein
Photo Credit: Alex Caspero