Alex Caspero, MA, RD, CLT
Everyday Chef, Fruits & Veggies—More Matters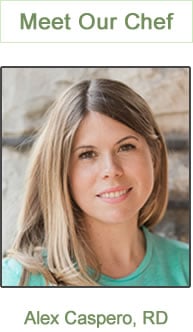 To me, side dishes are the true star of the holiday table. I will gladly forgo the main event in exchange for piling my plate high with vegetables, potatoes, and stuffing. Since I've never met a vegetable I didn't like, I use the holidays as an excuse to dress up my seasonal favorites into mouthwatering, crowd-favorites. If you're hosting guests this season, you'll need supporting dishes that pack a punch. My three favorites are below.

Balsamic Roasted Brussels Sprouts
Oven-roasted sprouts seasoned with balsamic vinegar are a simple and delicious side dish.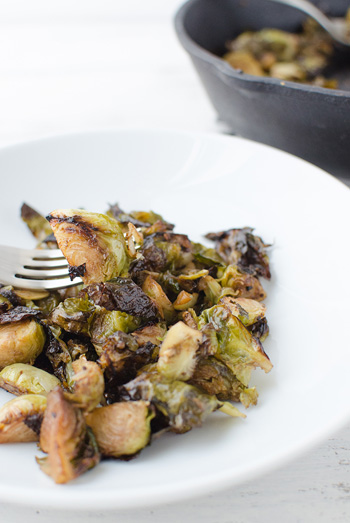 Ingredients
2 lb. Brussels sprouts, trimmed and quartered
¼ cup extra virgin olive oil
6 garlic cloves, peeled and finely chopped
4 tbsp. balsamic vinegar
salt/pepper to taste

Preheat the oven to 450°F. Heat the oil over medium heat in a large oven-safe skillet, like a cast-iron pan. Add the Brussels sprouts to the pan and sprinkle with garlic and a pinch of salt and pepper. Let cook, without stirring, for 5 minutes. You want the sprouts to get good and brown. Depending on the size of your skillet, you may need to do this in batches.

Stir and place the Brussels sprouts in the oven until brown and tender, about 30 minutes. Drizzle with balsamic vinegar and season to taste with salt and pepper. Serves 8 as a side dish

Pomegranate Quinoa Salad
A beautiful side dish loaded with nutrient-rich pomegranate seeds, quinoa, and celery.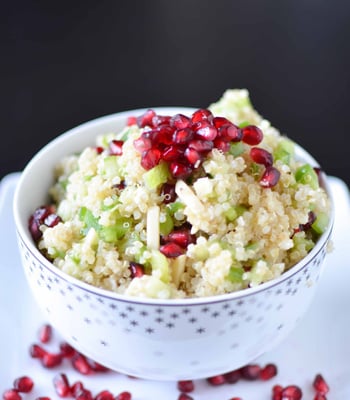 Ingredients
2 medium cucumbers, peeled, seeded and diced
2 green or red peppers, finely diced
2 cups uncooked quinoa
1 cup pomegranate arils
1 cup feta
1 cup toasted slivered almonds
¼ cup fresh chopped mint
2 lemons, zested and juiced
1/3 cup extra virgin olive oil
pinch salt/pepper
2 garlic cloves, minced

Cook quinoa according to directions.
Let cool completely. I like to cook my quinoa on the stove, keep covered and remove from heat. Let sit for an hour until completely cooled, and then fork to fluff the quinoa kernels. In a large bowl, combine cucumber, pepper, pomegranate arils, feta, toasted nuts, and mint.

Whisk together the minced garlic clove, lemon, olive oil and pinch salt/pepper.
Toss to combine. I think this tastes best at room temperature but feel free to pop in the fridge for an hour or two. Serves 8 as a side dish

Maple Delicata Salad
Colorful and nutrient-rich fall salad! Maple Roasted Delicata squash tossed with a simple spinach salad.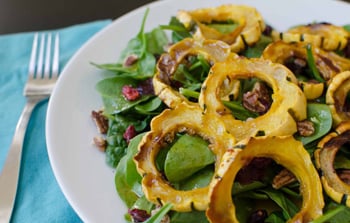 Ingredients
4 Delicata squash, sliced into rings, seeds removed
4 tbsp. 100% pure maple syrup
2 tbsp. olive oil
salt/pepper
10 cups baby spinach
1/2 cup dried cranberries
1/2 cup toasted pecan pieces

Dressing:
½ cup extra virgin olive oil
¼ cup balsamic vinegar
¼ cup 100% pure maple syrup
2 tbsp. dijon mustard
2 garlic cloves, minced
¼ teaspoon pepper
⅛ – ¼ tsp. salt

Make the Squash:
Preheat oven to 400°F.
Toss squash with 2 tbsp. maple syrup, 1 tbsp. olive oil and salt/pepper.
Place on a baking sheet and roast for 30 minutes until soft and slightly caramelized.
Remove from oven and let cool slightly.

Make the Dressing:
Combine all ingredients together, except for the olive oil, and blend together. I do this in my magic bullet or food processor.
Slowly drizzle in the olive oil until thick, emulsified, and creamy.
Taste for seasoning. It may need more salt depending on your taste.

Make the Salad:
In a large bowl toss together the spinach, cranberries, pecans and ½ cup dressing.
Plate, top with roasted squash. Drizzle with extra dressing. Serves 8 as a side dish.
Photo Credit: Alex Caspero