Alex Caspero, MA, RD, CLT
Everyday Chef, Fruits & Veggies—More Matters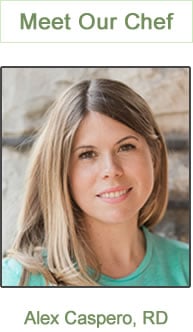 Now that back-to-school season is in full swing, what's for lunch? I know many of you struggle to pack healthy, simple lunches for your kids. Besides having to compete with cafeteria pizza and cartoon covered snacks, it can be a challenge to find nutritious foods that picky eaters will enjoy. That's where these vegetable wraps come in. They're brightly colored, fun and packed with 2-3 servings of vegetables in every sandwich.

I first created these wraps over the summer when I was visiting with my two-year-old niece. She had just learned the colors and I wanted to create a fun snack that she could practice with. After I prepared all of the vegetables, I had her help me assemble the wraps, creating an art project on each hummus-covered tortilla. Bringing kids into the kitchen is a bonus for both parents and kids; you benefit from quality time and they learn healthy cooking techniques. I find that when kids help prepare the meal they are more likely to want to eat their creation.

The below vegetables are just a starting point, choose any vegetable that pairs well with hummus. Slice and shred the vegetables ahead of time and let younger ones place the them onto the wrap. Then roll up very tightly and slice into brightly colored pinwheels! For easiest transfer, I recommend placing the rolls colored side up in a tupperware or bento box.

How to Make a Rainbow Wrap Kids will Love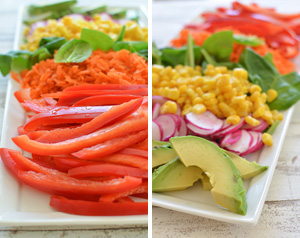 Ingredients
4 large tortillas (use gluten-free or whole-wheat if preferred)
1 red bell pepper, sliced into thin strips
2 carrots, shredded
½ cup corn kernels, thawed from frozen
1 cup spinach leaves, lightly chopped
8 radishes, thinly sliced
½ avocado, thinly sliced
½ cup hummus

Directions
1. Spread 2 tablespoons hummus onto each tortilla.
2. Arrange vegetables into any pattern desired.
3. Fold in the ends and roll as tight as possible. Then slice into 6 pinwheels and eat!

Note: If making ahead of time, omit the avocado.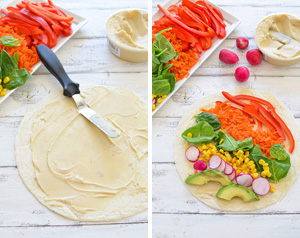 Photo Credit: Alex Caspero