These easy French toast kebobs were created with kids in mind. Namely, my two-year old niece. Already an avid kitchen helper, she glows with excitement anytime the mixing bowls get pulled out of the cupboard, knowing that delicious food is right around the corner. Like most toddlers, she is fiercely independent and prefers to feed herself, even if things get a little messy. Therefore, these kebobs are the perfect breakfast treat. Pretty enough to be served to the entire family, but also bite-size for little hands to manage. And a secret – kids love eating food on a stick!
Since frying French toast in a single skillet means that breakfast is served in batches, I'm relying on the broiler to finish cooking the toast evenly and together. Use strawberries if you have them, but any fruit that will stay on a kebob will work.
Strawberry French Toast Kebobs Recipe
Serves 4
Ingredients
4 thick slices of French or Italian bread, preferably slightly stale. Dry bread will soak up the egg mixture better than fresh bread.
3 large eggs
2 tablespoons milk
1/2 teaspoon vanilla extract
1/2 tablespoon cinnamon
1 tablespoons sugar
1 pint strawberries, halved
Directions
Slice the bread into cubes. In a large bowl whisk together the eggs, cream, vanilla extract. Dip the cubed bread into the egg mixture, then place on a greased baking sheet. Combine the sugar and cinnamon and sprinkle onto the cubes.
Broil for 2 minutes, flip, then broil another 2 minutes. Keep an eye on the bread during the last minute so it doesn't burn. Remove the French toast from the oven and layer them on the skewers with the strawberries.
Serve with maple syrup or strawberry jam as a dipping sauce.
Per serving: (171g) 193 calories, 4.8g fat, 1.4g sat. fat, 140mg cholesterol, 265mg sodium, 237mg potassium, 29.5g carbohydrates, 3g fiber, 9g sugars, 9.4g protein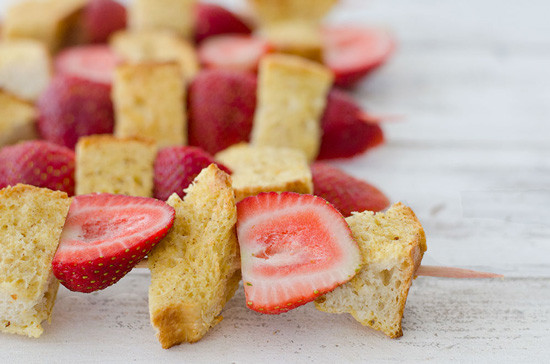 Photo Credit: Alex Caspero