Strawberry crepes! Don't worry, they only look fancy. While many of us associate fruit-filled crepes with a leisurely stroll in Paris, they're actually deceptively easy to make at home. These strawberry crepes are light, fluffy and perfect for breakfast, dessert and snacks.
To keep the crepes both healthy and kid-friendly, I swapped out whipped cream for a homemade Greek yogurt filling. Low-fat and protein-rich, it's the perfect creamy filling to pair with strawberries. Enjoy any extra filling as a fruit dip.
This has been my go-to crepe recipe for years; it's so simple it's almost foolproof. If you don't have a crepe pan, there's no need to run out and buy one. Just place the batter in the center of a small frying pan and use your wrist to gently roll the pan in a circle so that the batter spreads out evenly. Cook, then flip. Once you try these sweet crepes, you can use the same batter for savory ones (mushroom, asparagus and gruyere is delicious) or a crepe cake! You'll need to double the recipe for a cake version, layering a cooked crepe with crème filling and repeating until you get the desired height. Then, top with lots of fresh sliced strawberries.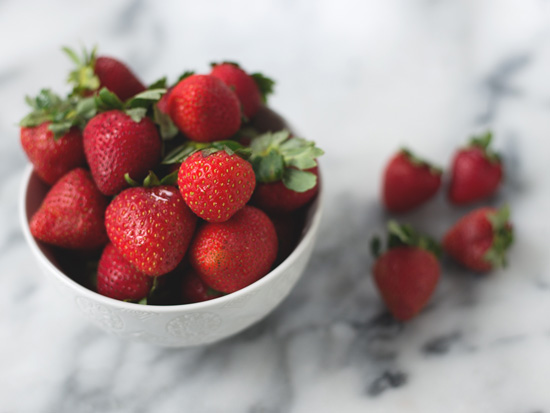 Strawberry Crepes with Greek Yogurt Crème Recipe
Ingredients
1 ½ cups low-fat milk
3 eggs
2 tablespoons butter, melted
½ teaspoon fresh lemon juice
1/2 cups whole-wheat pastry flour
¾ cup all-purpose flour
1 cup 0% plain greek yogurt
3 ounces cream cheese
2 tablespoons cane sugar
3 cups fresh sliced strawberries
Instructions
In a large bowl, whisk together the milk, eggs and melted and lemon juice.
In a separate bowl, whisk together the flour and a pinch of salt. Slowly add in the flour to the milk mixture and whisk until smooth. Set aside.
Place the greek yogurt, cream cheese and sugar in a medium bowl and whisk using hand-beaters until light and fluffly. Set aside.
Heat a small non-stick pan or crepe pan over medium heat. Add butter to coat or spray with cooking spray. Pour 1 generous ounce of batter into the center of the pan and swirl to spread evenly. Cook for 30 seconds and flip. Cook for another 20 seconds and remove to a cutting board or flat surface. Continue until all batter is gone.
To assemble, dollop 1 heaping tablespoon of filling onto the crepes and roll. Continue with rest of crepes. Garnish with fresh sliced strawberries and serve immediately.
Leftover crepes can be refrigerated or frozen. After crepes have cooled completely, stack and store in sealable plastic bags in the refrigerator for several days or in the freezer for up to two months. When using frozen crepes, thaw on a rack before gently peeling apart.
Yield: 8 crepes
Per serving: 222 calories, 9g fat, 84mg cholesterol, 119mg sodium, 289mg potassium, 27.5g carbohydrates, 2g fiber, 10.5g sugars, 8.3g protein
Photo Credit: Alex Caspero