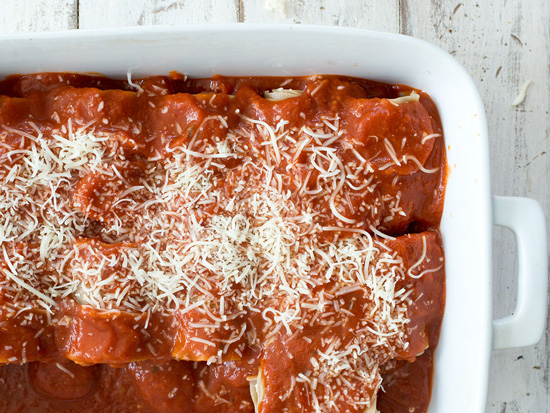 I love how cute and colorful these lasagna rolls are! Individual lasagna noodles rolled up with ricotta and spinach, then covered with marinara sauce. Not only is this dish easier to make than traditional lasagna, it's perfect for portion control.
These lasagna rolls are also a great way to involve kids in the kitchen. Have them help mix together the filling and then place on the cooked lasagna. For easier rolling and flavor in every bite, spread the ricotta mixture in a thin layer along the entire sheet.
For a quick weeknight dinner this fall, make the rolls ahead of time but don't bake. Cover with foil and place in the freezer. Cook directly from frozen for 40-45 minutes until heated through.
Spinach Lasagna Rolls Recipe
Makes 12 Rolls
Serves 6
Ingredients
12 ounces part-skim ricotta cheese
¾ cup shredded mozzarella cheese
1/8 teaspoon ground nutmeg
1 teaspoon olive oil
2 garlic cloves, minced
8 ounces baby spinach leaves
2 cups marinara sauce
12 cooked lasagna noodles
Instructions
Mix together the ricotta, mozzarella cheese, nutmeg and pinch salt/pepper. Set aside.
Heat the oil in a medium non-stick skillet over medium heat. Add the garlic and spinach and cook until wilted. Add the spinach to the ricotta mixture and stir together.
Preheat oven to 350°F. Place 1 cup of the marinara sauce in the bottom of a baking dish. Spread 2-3 tablespoons of filling on a cooked lasagna noodle. Gently roll up, tucking the noodle underneath as you go. Place seam-side down in the sauce and continue with the remaining noodles. Cover with remaining sauce and bake for 25 minutes.
Remove from oven and serve.
Nutrition Info
Per 2 lasagna rolls: 548 calories, 12g fat, 5g saturated fat, 67mg cholesterol, 528mg sodium, 549mg potassium, 82.6g carbohydrates, 3g fiber, 7.7g sugars, 27.1g protein
Photo Credit: Alex Caspero