This might be the easiest dinner you'll ever make. Toss everything into the slow-cooker and it's ready when you are. This cozy chowder is perfect for nights when you want to eat more vegetables without a lot of fuss. Once the vegetables are simmered to perfection, stir in a milk-cornstarch mixture to thicken the chowder without additional butter and cream.
The beauty of this dish is how customizable it is to whatever you have on hand. Feel free to switch up the vegetable options depending on what's in your fridge. You could also add in diced chicken or cooked beans for more protein.
If you don't feel like making this in the slow-cooker, it adapts easily to the stovetop. To prepare, sauté a bit of olive oil in a large stockpot over medium heat. Add the onions, carrots, bell pepper and celery and cook until translucent, about five minutes. Add in the potatoes and dried herbs and sauté a minute or two more. Finally, add in the creamed corn, green beans and broth, then reduce heat to low and simmer for 30-40 minutes until potatoes are tender. Stir in the milk mixture and cook another 5-10 minutes until thickened.
Slow Cooker Vegetable Chowder Recipe
Serves 4-6
Ingredients
½ cup chopped onion
2 cups chopped potatoes
1 cup chopped carrots
1 bell pepper, chopped
2 cups chopped fresh green beans
½ cup chopped celery
1 can creamed corn
3 cups vegetable broth
1 teaspoon dried parsley
1 teaspoon dried basil
1 teaspoon dried oregano
1 cup reduced fat milk
2 tablespoons corn starch
Directions
Place the onion, potatoes, carrots, pepper, green beans, celery, creamed corn, broth, parsley, basil, and oregano in the base of a crock-pot. Cook on low for 6-7 hours or on high for 3-4 hours until potatoes are tender and cooked through. Season to taste with salt and pepper; depending on the saltiness of your broth you may or may not need salt. I usually add 1/2 teaspoon and go from there.
Whisk together the milk and cornstarch until dissolved. Slowly add the milk mixture to the chowder and cook on high another 30 minutes until thickened. Serve!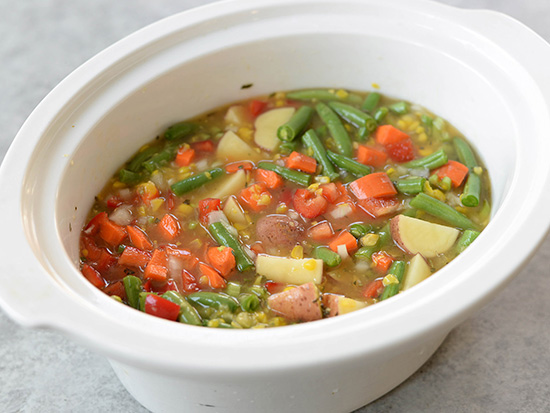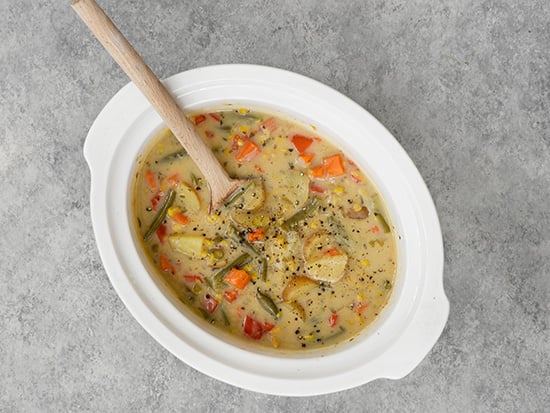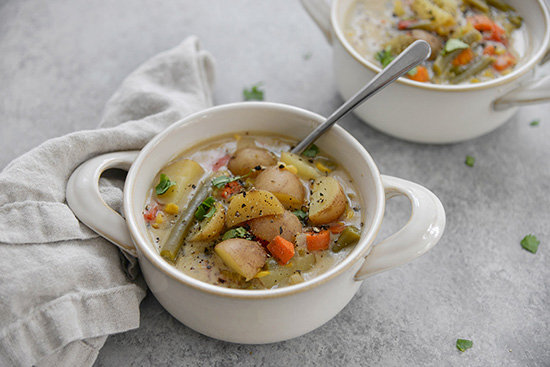 Nutrition Info
Per serving: (4) 241 calories, 2g fat, 1g saturated fat, 5mg cholesterol, 902mg sodium, 926mg potassium, 51g carbohydrates, 13g sugars, 6g fiber, 9g protein
Photo Credit: Alex Caspero