Behold the sheet pan dinner! Just toss vegetables and protein on a sheet pan, drizzle with sauce of choice and roast until crispy and tender. Minimal prep, zero cleanup. If you're looking to save time with a healthy, quick and easy recipe, the sheet pan dinner is it. I've included my favorite version below, featuring a soy marinade, tofu and green beans, but the options are truly endless.
To ensure that your meal crisps instead of steams, spread the ingredients out in a single layer. Ideally, you want the largest sheet pan you've got so there's plenty of surface area to spread out the ingredients. If needed, use two trays. If you prefer your vegetables or protein even crispier, stick them under the broiler for a minute or two before serving.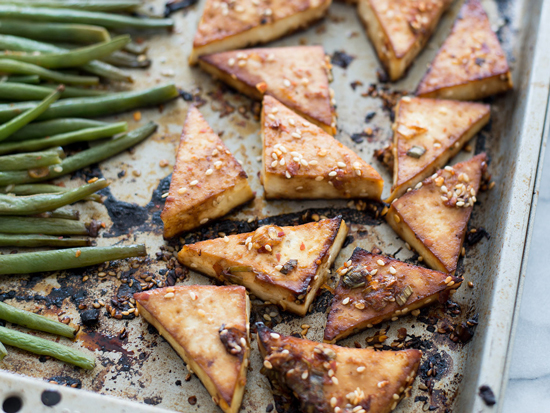 Tip: For clean-up ease, use parchment paper on the bottom of the pan. It still allows the vegetables to crisp up and you just throw away when finished.
Sheet Pan Tofu Dinner Recipe
Serves 4
Ingredients
Marinade
1 teaspoon minced garlic
¼ cup sliced scallions
2 teaspoons sesame seeds, plus more for garnish
3 tablespoons soy sauce
1 tablespoon sesame oil
1 teaspoon red pepper flakes
½ teaspoon maple syrup
2 tablespoons rice wine vinegar
Tofu
16 ounces firm tofu, drained and pressed
1 pound green beans, trimmed
2 teaspoons olive oil, for oiling the pan
salt/pepper
Directions
Preheat the oven to 400° F. Rinse and drain your tofu, then press using a tofu press or wrap in paper towels and place heavy books or pan on top. Let drain for at least 10-15 minutes, this will help the marinade be absorbed.
Whisk together the ingredients for the marinade. Cut the tofu into triangles and place in a single layer on a parchment paper lined baking sheet. Drizzle with the spicy sauce then bake for 12 minutes.
Flip tofu and drizzle with more sauce. Add the green beans to the other side of the pan in a single layer, if possible. Drizzle with remaining sauce and sprinkle with salt and pepper.
Return back to the oven and bake until tofu is browned and slightly crispy, about 12-15 minutes.
Sprinkle with remaining sesame seeds, if desired, and serve.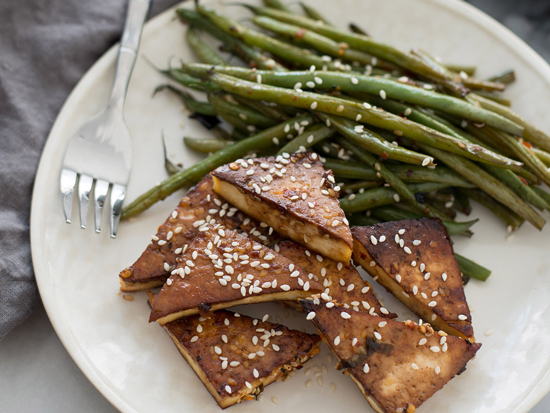 Nutrition Info
Per serving (4): 191 calories, 11.4g fat, 1.9 saturated fat, 0mg cholesterol, 698mg sodium, 496mg potassium, 12.8g carbohydrates, 5.4g fiber, 3.2g sugars, 12/6g protein
Photo Credit: Alex Caspero