Alex Caspero, MA, RD, CLT
Everyday Chef, Fruits & Veggies—More Matters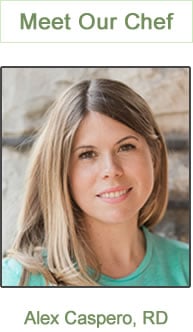 Bright green carrot tops, onion skins, celery leaves and swiss chard stems may be common items you throw in the trash when preparing fresh produce but these are all hidden gems in their own right. Admittedly, I hate throwing away bits of produce that I won't be using for dishes, hoarding scraps of food in my freezer and refrigerator with the hope that I will someday get to them. Of course, once they hit their expiration date, I end up throwing into the garbage can without a second thought.

Root to Frond cooking is a trend similar to the Tail to Snout movement that's taken over the butcher world. How can we use the entire fruit or vegetable, cutting down on waste and maximizing produce costs? The three recipes below highlight this waste not, want not model to make the most of the whole vegetable.

Carrot Top Pesto
Don't throw away the tops of the carrots! Some supermarkets and farmers' markets will sell the carrot with the green still attached, perfect for making homemade pesto. While it's delicious anywhere you would use pesto, try it on freshly roasted carrots.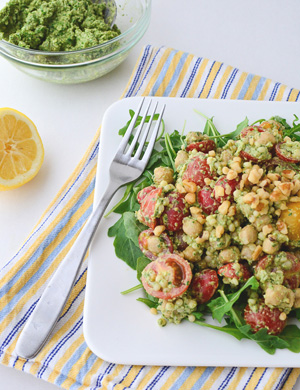 Ingredients
1 cup lightly packed carrot tops
4 tablespoons extra-virgin olive oil
1 large garlic clove
3 tablespoons pine nuts (can also sub walnuts)
¼ cup grated Parmesan cheese

Directions
Place the carrots tops, oil, garlic and a pinch of salt into a food processor and pulse together until finely minced. Add the pine nuts and pulse again a few times until finely chopped. Add the cheese and pulse again until just combined, you should be left with a thick paste that can be used to toss with hot pasta, spread on sandwiches, dolloped on roasted carrots, or enjoyed anywhere you would usually eat pesto.
Homemade Vegetable Broth
This is one recipe I need to remind myself to make more often. It's much easier than chicken or beef broth as you don't need to skim off any fat or have it cook down for hours. I keep a freezer-safe bag in my freezer to collect produce scraps throughout the week to make broth on the weekend. If you end up with extra broth, place in a glass jar and freeze for up to 6-8 months, then thaw completely before using. While almost all vegetables will work in broth, avoid cruciferous vegetables like broccoli, cabbage and Brussels sprouts, as they will make the broth bitter.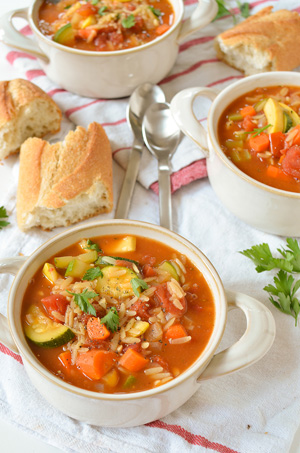 Ingredients
1 tablespoon olive oil
4-5 cloves garlic, minced
2 large onions, chopped
2-3 ribs celery, chopped
2-3 carrots, chopped
8 cups water
2-3 cups frozen vegetable scraps
2 bay leaves
1 sprig parsley/thyme (if you don't have fresh sprigs, add 1-2 teaspoons of dried herbs instead)

Directions
Place a large stock pan over medium heat and add the olive oil. Add the onion, celery, carrots and garlic and cook until softened, about 5-10 minutes, stirring often. Add the water, frozen vegetable scraps and spices. Reduce heat to low, partially cover and simmer for 45 minutes.

Strain the broth through a fine mesh strainer or use a wire spider to remove the vegetable scraps. Use as is or cool completely and transfer to freezer-safe containers to store in freezer.
Garlicky Swiss Chard Stems
One of my favorite vegetables is swiss chard and I swear I could eat this dish almost nightly and not get sick of it. The key is cooking the stalks first and then adding in the leaves second. Enjoy this as a beautiful side dish or top with brown rice and a poached egg for a simple winter meal.

1 tbsp. olive oil
¼ tsp. red pepper flakes
1 large bunch swiss chard, stems and leaves separated.
2 cloves garlic, thinly sliced

Heat a large sauté pan over medium heat and add the olive oil. Once hot, add the red pepper flakes and stir quickly to combine in the oil. Add the sliced swiss chard stems and cook for 6-7 minutes until tender. Stir in the thinly sliced garlic cloves.

Stack the swiss chard leaves on top of one another and roll tightly, like you are rolling a burrito. Using a sharp knife, start at the top of the burrito and slice horizontally to create ribbons of swiss chard leaves. Add to the pan and cook another 5 minutes until greens are wilted. Season to taste with salt and pepper.
Photo Credit: Alex Caspero