Alex Caspero, MA, RD, CLT
Everyday Chef, Fruits & Veggies—More Matters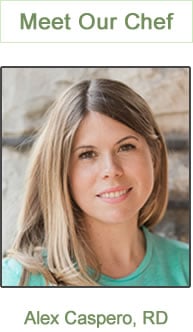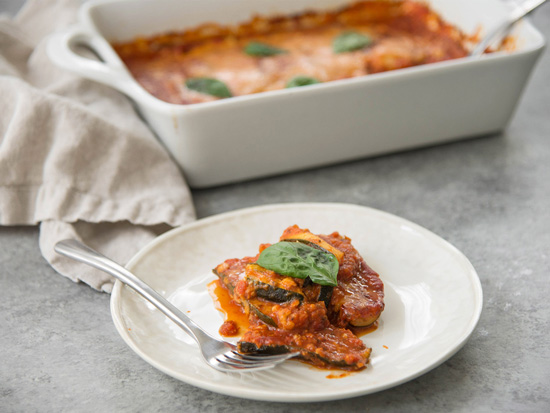 Ready for your new favorite side dish? This roasted Zucchini Parmesan is sure to be it. Perfect for when the garden or farmers' market is overflowing with zucchini and you're tired of zucchini noodles and zucchini bread. A twist on the classic, Eggplant Parmesan, this version uses tender, roasted zucchini layered with marinara sauce and Parmesan cheese.

Roasting the zucchini, instead of frying, cuts down on too much oil and unnecessary bread crumbs. It also allows the dish to come together quickly, with minimal prep time in between steps. Since this dish is so simple, you'll want to use your favorite marinara sauce. If I don't have time to make my own, I'm partial to tomato and basil jarred sauces, or I'll add a few dried spices (oregano and basil) along with a sautéed bell pepper, onion and garlic to a can of plain tomato sauce.

Since I'm a fan of spicy food, I call for a little crushed red pepper flakes to be rubbed on the zucchini before roasting. If you're a fellow spice fan, try it this way. If not, it can easily be omitted.

Roasted Zucchini Parmesan Recipe

Ingredients
3 medium zucchini
2 teaspoons olive oil
¼ teaspoon salt
¼ teaspoon freshly ground pepper
¼ teaspoon crushed red pepper flakes, optional
4 cups marinara sauce
¾ cup Parmesan cheese
Fresh basil, for topping

Directions
1. Preheat the oven to 450°F. Line 2 sheet pans with parchment paper and set aside.

2. Trim the ends of the zucchini, then slice in half crosswise. Then slice into lengthwise slices, roughly ¼" thick.

3. Rub zucchini with olive oil and sprinkle with salt, pepper and red pepper flakes, if using. Arrange zucchini slices on baking sheets in a single layer and roast for 12 minutes, until lightly browned. Remove from oven and reduce heat to 375°F.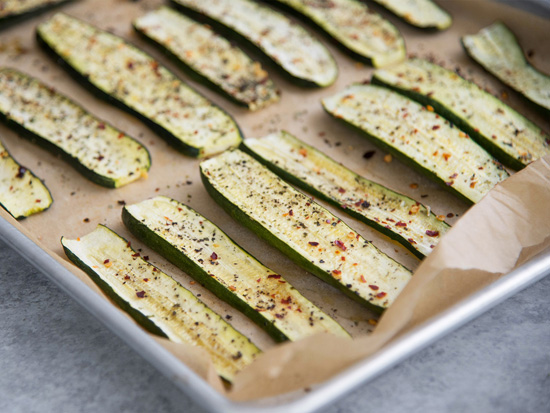 4. Spread ½ cup of the marinara sauce in the bottom of a 9×13-inch casserole dish. Arrange a third of the zucchini in an even layer over tomato sauce. Spoon a cup of sauce over zucchini and sprinkle with ¼ cup Parmesan. Repeat with 2 more layers, ending with ¼ cup parmesan cheese.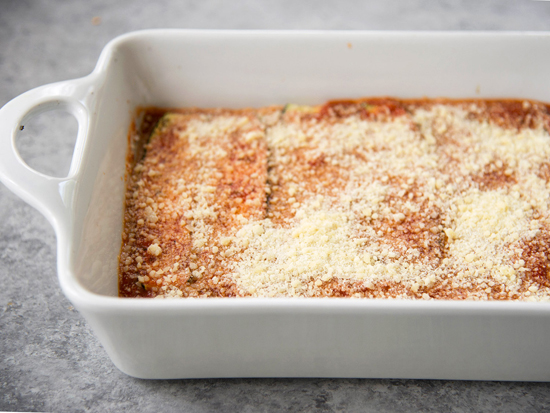 5. Bake for 30-35 minutes, until golden brown on top and bubbly. Remove from heat and allow to sit for 5-10 minutes before serving. Garnish with basil, if desired, and serve.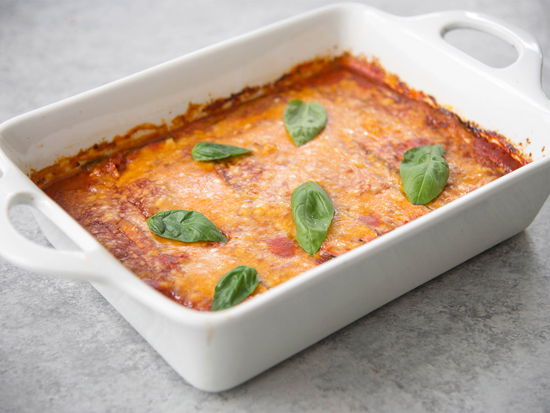 Nutrition Info
Per serving: (6) 155 calories, 7g fat, 2g saturated fat, 12mg cholesterol, 520mg sodium, 800mg potassium, 16g carbohydrates, 12g sugars, 4g fiber, 7g protein

Photo Credit: Alex Caspero