We went strawberry picking a few weekends ago and it reminded me why I love the summer season so much. An abundance of fresh, delicious produce that begs to be used in just about every aspect: snacking on them whole, strawberry jam, strawberry cobbler and roasted.
If you haven't had roasted berries before, you are in luck. Roasting the strawberries concentrates their flavors, enhances their sweetness and creates a lovely berry sauce in the process. Adding in balsamic vinegar also brings out the sweetness of the berries, as a little acid heightens the overall flavor.
After roasting, it's up to you how you want to serve this. For a chunky sauce, spoon the berries right from the pan; I prefer this on yogurt, ice cream and other sweet treats. For a creamier version, puree the berries in a blender and slowly add in olive oil to emulsify. This tastes great on grilled proteins, as a base for salad dressings and pasta salads.
To learn more about berries, including strawberries, view my facebook live video.
Roasted Strawberry Balsamic Sauce

Ingredients
1 pound strawberries, hulled and sliced
2 teaspoons cane sugar
1 tablespoon balsamic vinegar
pinch of salt and freshly ground black pepper
¼ cup olive oil
Directions
Preheat oven to 400 degrees F. Combine strawberries, sugar, salt/pepper, vinegar and place in an oven-safe baking container.
Roast for 15-20 minutes until strawberries start to break down and juices are released.
For a chunky, thick sauce- spoon strawberries as is onto any dish you like.
For a smoother, creamy sauce, add the strawberries with all of their juices to the base of a blender or food processor and puree until just combined. With the motor running, slowly drizzle in the olive oil until a creamy sauce forms. Enjoy on everything; tastes great on sweet items like ice cream and savory ones, like grilled steak.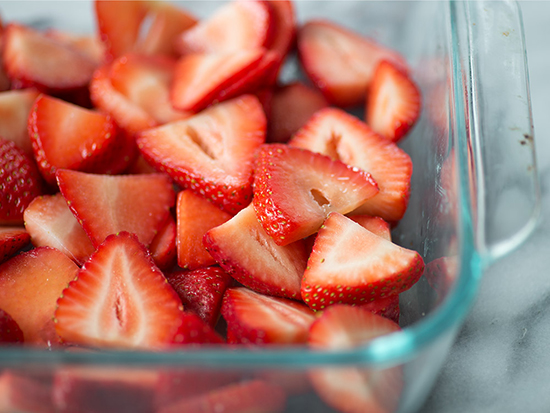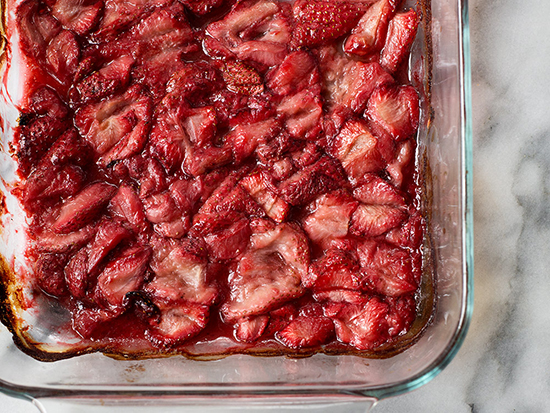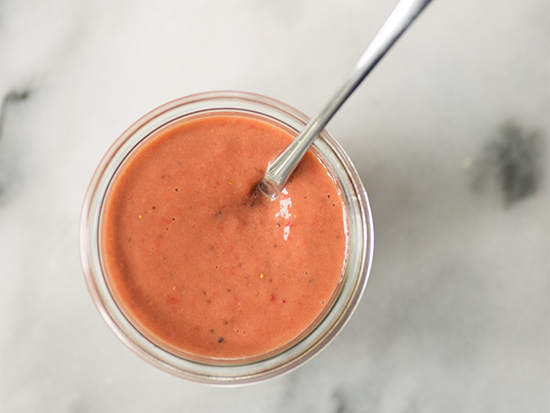 Nutrition Info
Per serving: (2 tablespoons) 56 calories, 4.8g fat, 0mg cholesterol, 190mg salt, 4g carbohydrates, 3g sugars, 0.3g protein
Photo Credit: Alex Caspero