Eggplant and tomatoes are at their very best right now, making this the perfect time to whip up this weeknight pasta dish. Eggplant becomes meaty and tender when roasted, almost melting into the hot pasta. Tomatoes are added for balance and sweetness, creating a dazzling, late-summer meal.
While you almost don't need the addition of goat cheese, I appreciate the added creaminess and tang. Not a fan? Feta and mozzarella will also do the trick, though feel free to omit it entirely.
A secret I learned from my brother-in-law chef is the importance of acid in finishing a dish. A tiny splash of vinegar or fresh citrus brightens and enhances just about any meal, especially pasta, soups and stews. In this eggplant and tomato pasta, I call for a splash of sherry vinegar to finish, providing even more depth and flavor. Don't have sherry on hand? Substitute red wine vinegar instead.
Roasted Eggplant and Tomato Pasta Recipe
Ingredients
1 medium eggplant, diced
4 cups halved cherry tomatoes
1 tablespoon olive oil
12 ounces whole-wheat pasta (penne, fusilli, or other short pasta)
4 ounces goat cheese
1 teaspoon sherry vinegar
⅓ cup finely chopped parsley
⅓ cup chopped basil
¼ teaspoon red pepper flakes
salt/pepper, to taste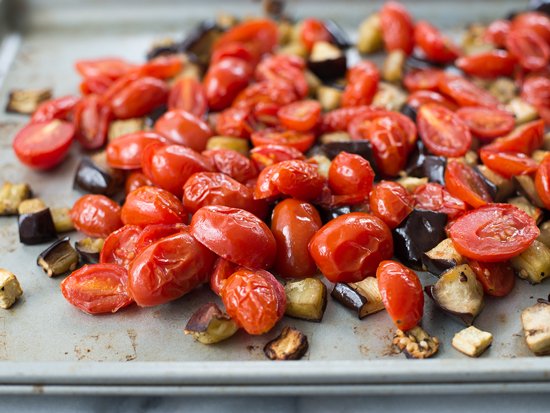 Preheat oven to 400° F. Toss diced eggplant and cherry tomatoes with olive oil and salt and pepper. Place eggplant and tomatoes in a single layer and roast for 25 minutes, stirring once. Make sure vegetables are in a single layer so they crisp and don't steam.
While the vegetables are roasting, bring a large pot of water to a boil. Add the pasta and cook until al dente, according to package directions. Drain, reserving ¼ cup pasta water.
Toss hot pasta and roasted vegetables with goat cheese until melted. If the pasta mixture is too thick, thin with a bit of pasta water. Stir in the parsley, basil and red pepper flakes. Season to taste with salt and pepper.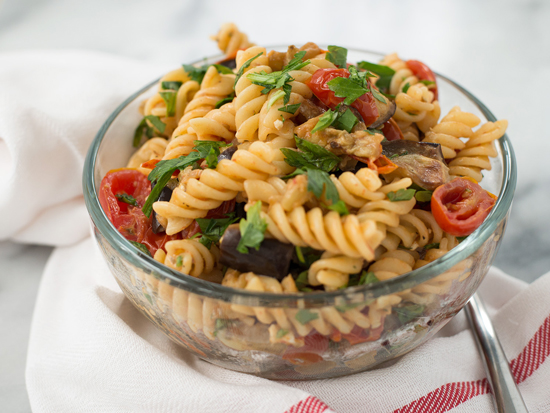 Per serving: (Serves 4) 430 calories, 15.5g fat, 7.5g saturated fat, 30mg cholesterol, 55g carbohydrates, 11.4g fiber, 10.8g sugar, 19g protein
Photo Credit: Alex Caspero