This time of year, I get downright giddy over the wide selection of squash at the market. Baked, roasted, mashed or stuffed, I could, and often do, eat squash every day. This roasted delicata version may be one of my favorites. Topped with a sweet maple dressing, pomegranate seeds and walnuts, it's a show-stopping dish for any holiday table or weeknight. Really, it's only fancy if you want it to be.
If you haven't had delicata squash before, it's a must-try before the short season ends later next month. The prep couldn't be easier and the roasted flavor is almost candy-like. Biting into crispy squash bits with a burst of fresh pomegranate seeds is a texture explosion, in the best possible way.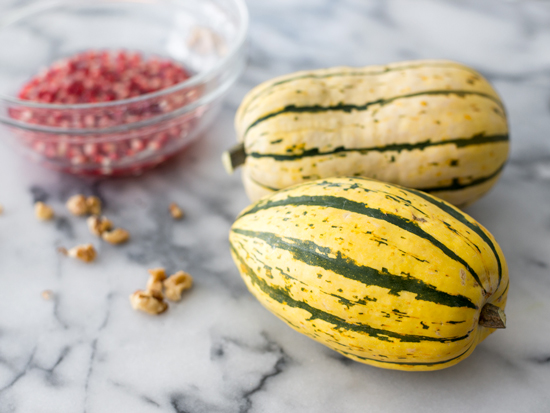 To prepare, wash the delicata, then slice into 1/2"-1" rings. Gently remove the seeds and toss with a little bit of olive oil so a nice crust develops. For a pop of color, I garnish the roasted squash with pomegranate arils.
You can find pomegranate arils already prepared for you in store, or grab a whole pomegranate and get them out yourself. I like the following trick for easily peeling a pomegranate without staining your walls and clothes.
Place the pomegranate on a cutting board then slice the crown off the end.
Once the crown is removed, you should be able to see small quadrants that separate the seeds.
Cut each section out and set aside. Use the white spaces between the arils as your guide on where to cut.
Place a strainer over a bowl in the sink.
Flip a section of the pomegranate upside down so arils are facing towards the strainer and skin is towards you.
Then, use the back of a spoon to tap over the entire skin so the arils fall out into the strainer.
Continue with the rest of the pomegranate sections.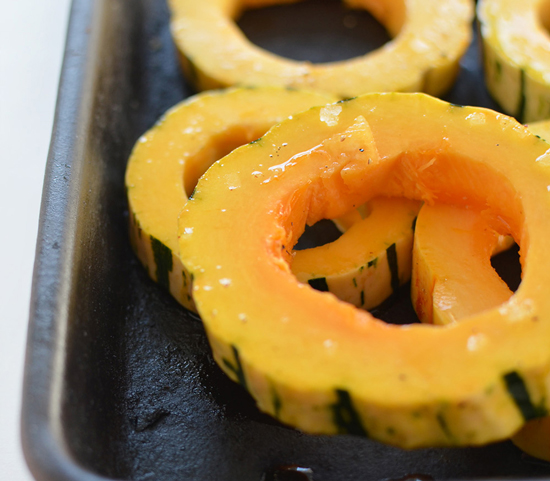 Roasted Delicata Squash with Pomegranate Squash Recipe
Ingredients
2 delicata squash, sliced and seeds removed
1 tablespoon olive oil
½ teaspoon salt
¼ teaspoon freshly ground pepper
1 tablespoon pomegranate vinegar (can sub balsamic or cider vinegar)
1 teaspoon maple syrup
salt/pepper
Dressing
1 tablespoon olive oil
1 tablespoon pomegranate vinegar (can sub balsamic or cider vinegar)
2 teaspoons maple syrup
½ teaspoon dijon mustard
1 cup pomegranate seeds
¼ cup chopped walnuts
Preheat the oven to 375°F.
Directions
Toss the squash with 1 tablespoon olive oil and salt/pepper.
Place in a single layer on a baking sheet and roast for 20 minutes until soft.
Flip, then whisk together the 1 tablespoon pomegranate vinegar and 1 teaspoon maple syrup. Use a pastry brush to brush the syrup onto the squash, then place back in the oven for an extra 20-30 minutes until caramelized and slightly crispy.
While the squash is cooking, whisk together the olive oil, pomegranate vinegar, maple syrup, Dijon mustard and salt and pepper to taste.
Place the squash on a platter and drizzle with pomegranate-maple dressing. Garnish with pomegranate seeds and chopped walnuts.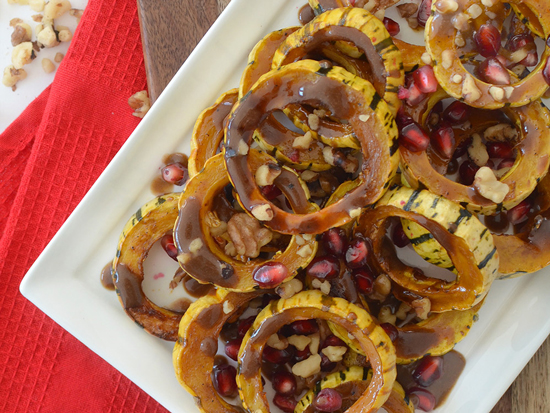 Nutrition Info
Per serving (4): 130 calories, 10g fat, 1g saturated fat, 15g carbohydrates, 7g sugar, 2.3g fiber, 2g protein
Photo Credit: Alex Caspero