In Asian cuisine, mushrooms are important ingredients in achieving the fifth basic flavor: umami. They are known to have a savory, "meaty" personality. Portabellas are big, fleshy mushrooms with thick caps that make a great meatless entrée. Stuffing them is my favorite way to prepare them.
I recommend using your local grocer's olive and antipasto bar to your advantage when looking for things to stuff a mushroom. These marinated goodies are just waiting to be used with absolutely no effort required.
What I Used …
Peppadew peppers – tangy, sweet, with the tiniest bit of zing
Brined Olives – Try spicy, cheese stuffed, green, colossal, or Kalamata – each brings something salty and meaty to the flavor profile
Roasted Garlic – already roasted, skin removed, and marinating in a garlic-infused oil
Removing the Gills
I remove the gills of the portabella mushroom for a few reasons:
They bleed black liquid all over the plate.
The gills hold too much water and taste bitter.
Scooping out the gills makes more room to stuff yummy things inside the mushroom.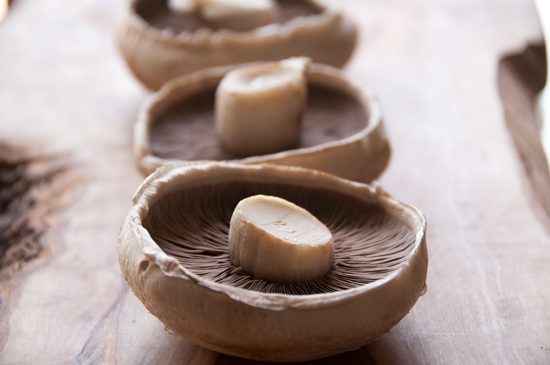 Quinoa Stuffed Antipasto Portabella Recipe
Ingredients
4 each Portabella mushrooms – gills and stem removed
2 cups Baby Spinach, wilted
2 cups Quinoa, cooked
4 ounces Mozzarella cheese
1 Cup Button Mushroom, sliced
1 each Bell Pepper, small diced
½ Cup Peppadew Peppers, quartered
1 Tbsp Shallot, minced
¼ Cup Flat Leaf Parsley, rough chopped
¼ Cup Kalamata olives – pitted and quartered
¼ Cup Roasted Garlic Cloves
¼ Cup Extra Virgin Olive Oil
3 Tbsp Red Wine Vinegar
1 tsp Dijon or whole grain mustard
Salt and Pepper To Taste (S&P TT)
Procedure
Heat Oven to 350° F
Lightly oil cleaned portabella caps, place on sheet tray.
Sauté mushrooms with small amount of oil or butter over medium heat until lightly browned.
Add bell pepper and shallot to mushrooms. Sweat until tender, but still bright in color and crisp. Lightly S&P TT.
In large bowl, combine cooked quinoa, sautéed mushrooms, half of the chopped parsley, and peppadew peppers.
Combine EVOO, red wine vinegar and mustard. S&P TT.
In small batches – sprinkle olive oil and red wine vinegar dressing over quinoa mixture, tossing well to coat. Taste frequently and add as much of the dressing as you like.
Stuff quinoa mixture into portabella caps.
Top with mozzarella cheese.
Bake until cheese browns and portabella caps are tender to touch – approximately 20 minutes.
In separate bowl, toss together roasted garlic, cut Kalamata olives, and some of the remaining parsley. Use as garish.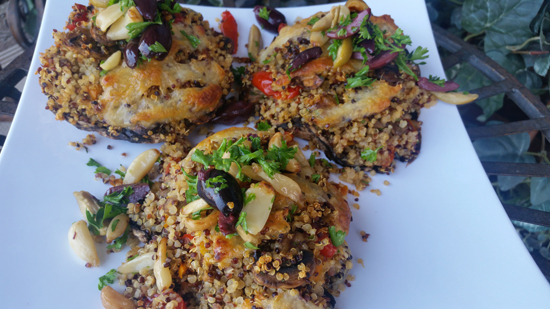 Nutrient Analysis:
Calories: 384.16 kcal, Protein: 13.86 g, Carbs: 31.42 g, Total Fat: 22.20 g
Sat Fat: 5.64 g, Cholesterol: 20.00 mg, Sodium: 367.14 mg, Fiber: 5.93 g
Photo Credit: Andrew Dole