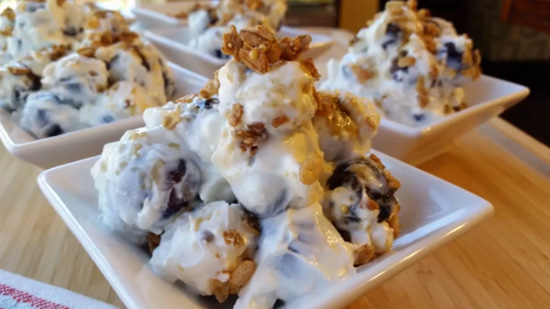 One Thanksgiving my mother-in-law made grape salad (grapes covered in cream cheese, sour cream, and brown sugar). It was amazing, addictive, and I wanted more. Lot's more. However, eating cream cheese and brown sugar frequently isn't something I recommend. So over the past 8 years I've adapted the recipe to something I can eat almost every week. Like now, because I'm eating one of the plated parfaits from the photos as I write this.
What you'll find is a conservative blend of neufschatel cheese and plain fat-free Greek yogurt. Creamy, smooth, with the random bursts of sweet or tart from the grapes, this gem of a recipe is good for breakfast, snacks, and makes a guilt-free dessert as well!
I'm partial to black seedless grapes, but this recipe also works with red and green grapes, depending on what you like.
Protein-Packed Vanilla & Grape Parfait
Serves 6
Ingredients
1lb Grapes, rinsed and dried
4 oz Neufchatel or low fat cream cheese
8 oz Plain Fat-Free Greek Yogurt
1/2 tsp Vanilla Extract
2 Tbsp Brown Sugar
1/3 Cup Granola
Procedure
Whip yogurt and cheese together until smooth and airy.
Add vanilla extract and mix well.
Fold in grapes gently.
Sprinkle with brown sugar.
Refrigerate in a tightly covered container until ready to serve.
Serve with topping of granola and pinch of brown sugar.
Nutrient Analysis:
Calories: 157kcal, Protein: 7g, Carbs: 23g, Total Fat: 5g
Sat Fat: 3g, Cholesterol: 15mg, Sodium: 93mg, Fiber: 1g
Photo Credit: Andrew Dole