Alex Caspero, MA, RD, CLT
Everyday Chef, Fruits & Veggies—More Matters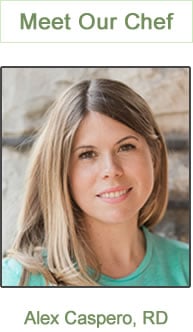 Being from the south, I've always been a fan of collard greens. Although, to be fair, I grew up eating them slow-cooked for hours in bacon fat. Absolutely delicious, but it's not exactly the healthiest way to enjoy this hearty green. Over the years, I've fallen in love with collard green wraps, vegetables and grains rolled into a collard green leaf and eaten like a burrito. They are one of my favorite summer lunch meals, light yet filling, exactly what I crave that time of the year.

While collard greens are often thought to be too tough to enjoy raw, I knew that if it worked in my beloved vegetable wrap, it would work in a salad. For those of you who aren't familiar with collard greens, they are similar both in taste and texture to kale. The key to enjoying raw collard greens is slicing them very thin and massaging the dressing into the leaves to break down the fibrous texture. The easiest way to do this is with your hands; add the dressing and then gently toss the salad with your fingers, taking care to coat each piece of green. The combo below reminds me of a collard green slaw, tangy and creamy thanks to the sliced apple and tahini dressing. While the combination below is my favorite, feel free to swap in shredded cabbage, kale or lettuce for some of the collard greens if desired.

Collard Green Salad with Tahini Dressing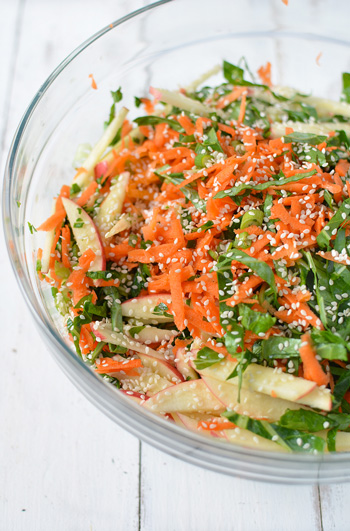 The Salad
Serves 4

5 cups shredded collard greens
1 cup shredded carrots
1 red apple, sliced and julienned
⅓ cup finely chopped parsley
3 scallions, thinly sliced
¼ cup toasted sesame seeds

Lemon Tahini Dressing
1 garlic clove, minced
½ cup tahini
¼ cup fresh lemon juice
¼ teaspoon smoked paprika
¼ teaspoon salt
¼ teaspoon freshly ground pepper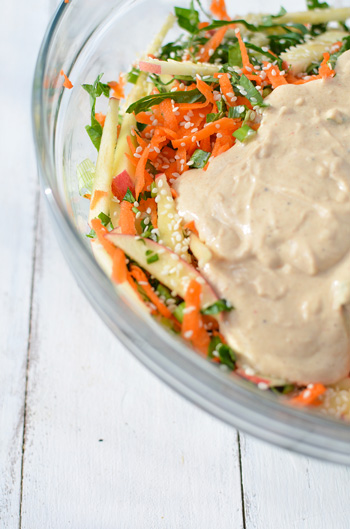 Remove any tough stems from the collard greens, and then stack on top of one another in a pile. Starting with one end, tightly roll the collards in a bundle then slice to create thin ribbons. Cutting the collards this way will make them easier to enjoy raw.

Add the sliced collards, shredded carrots, apple, parsley, and scallions into a large bowl. Whisk together the garlic clove, tahini, fresh lemon juice, smoked paprika, salt and pepper until creamy and smooth. Season to taste if needed, then add to the collard bowl.

Toss together until well combined. The easiest way to do this is using your hands, gently massaging the dressing into the vegetables until well coated. Garnish with toasted sesame seeds and serve.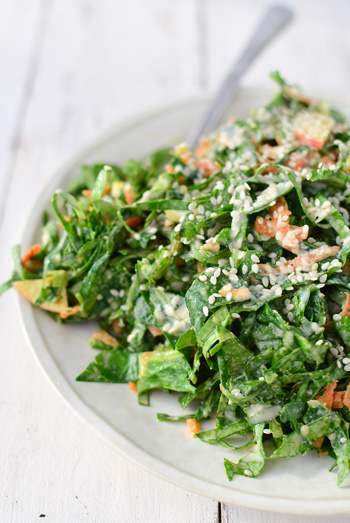 Photo Credit: Alex Caspero