Pie for breakfast! This bowl of oats is loaded with fresh apples, cinnamon, ginger, vanilla and just the right amount of sweetness. Perfect for mornings when you are craving sweets, but prefer something a bit more wholesome.
To cut down on prep time for busy mornings, make a double or triple batch earlier in the week, then portion out in individual jars or containers. When you're ready to eat, splash with a bit more almond milk and warm through or enjoy it cold.
With apple season in full swing, now is the perfect time to experiment with different varietals. Below are my 5 favorite choices, which should be available at any well-stocked grocery store.
McIntosh: Often referred to as the "perfect" apple flavor, this juicy, fresh and sweet apple is delicious on its own in savory dishes and desserts.

Honeycrisp: Perfectly sweet and juicy, this is my favorite apple for snacking.

Pink Lady: With a pretty pink exterior, this apple has a mild flavor with lots of crunch. Try it in salads, paired with walnuts, arugula and goat cheese.

Goldrush: While these can be a bit harder to find, I love their tart flavor in pies and other baked goods. Look for them towards the end of October, right in time for holiday pie making.

Fuji: With between 15% and 18% brix (sugar level), this is one of the sweetest apples around. Enjoy it as is, in salads and slaws, or topped with a little almond butter for a delicious snack.
Apple Pie Oatmeal Recipe
2 teaspoons butter
1 cup diced apple
½ cup rolled oats
1 teaspoon ground cinnamon
¼ teaspoon ground ginger
1 ¼ cup unsweetened almond milk
2 tablespoons maple syrup
½ cup unsweetened apple sauce
½ teaspoon vanilla extract
Directions
1. Heat the butter in a medium saucepan over medium heat. Add the apple and cook for 3-4 minutes until just softened. If you prefer your apples softer, cook them a few minutes longer.
2. Whisk in the oats, cinnamon, ginger, almond milk, maple syrup and apple sauce. Reduce heat to low and simmer until thickened and oats have cooked through, about 6-8 minutes.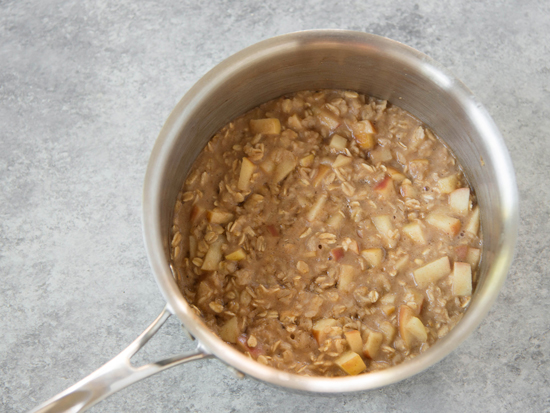 3. Stir in the vanilla extract, taste for sweetness (adding in more maple syrup if needed) and divide into two bowls. Serve!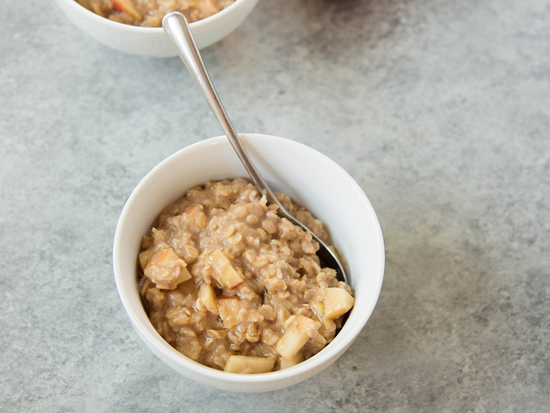 Nutrition Info
Per serving: (2) 256 calories, 7g fat, 3g saturated fat, 11mg cholesterol, 126mg sodium, 353mg potassium, 46g carbohydrates, 29g sugars, 5g fiber, 4g protein
Photo Credit: Alex Caspero