Alex Caspero, MA, RD, CLT
Everyday Chef, Fruits & Veggies—More Matters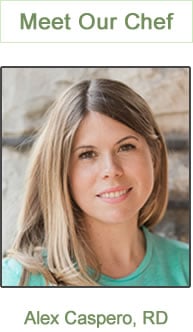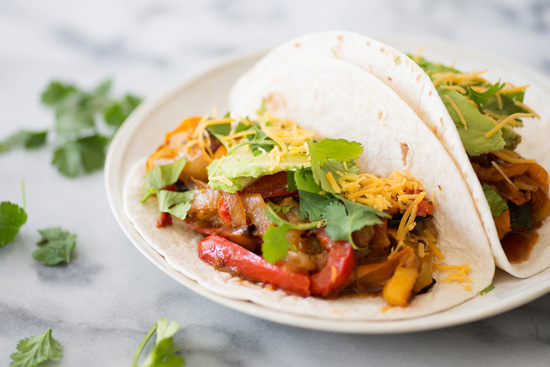 These roasted vegetable fajitas are about as easy as dinner gets. Slice the peppers, onion and zucchini, mix with spices and roast until tender and slightly charred. Then, serve with warmed tortillas and topping of choice. Feel free to mix and match these depending on your preference, adding in chicken, beef or tofu strips or a can of whole or refried beans. Corn kernels, yellow squash and sliced tomatoes would also be delicious here.

I make these fajitas often, especially when I'm expecting a crowd. Since the recipe can easily be doubled or tripled, it's a simple way to serve healthy fare without a lot of prep work or time in the kitchen. To serve ahead of time, slice all the vegetables, season and store in the fridge until ready to cook. Then, pop in the oven and get out whatever toppings you prefer.

Oven-Roasted Vegetable Fajitas Recipe

Ingredients
2 medium zucchini, sliced into strips
2 red bell pepper, sliced into strips
1 yellow bell pepper, sliced into strips
2 green bell peppers, sliced into strips
1 yellow or red onion, sliced
1 tablespoon olive oil
1 teaspoon ground cumin
¼ teaspoon smoked paprika
¼ teaspoon cayenne pepper
½ teaspoon dried oregano
8 (8-inch) flour tortillas, warmed

Toppings of choice: sliced avocado, sour cream, shredded lettuce, shredded cheese

Directions
Preheat the oven to 450° F.

Place the vegetables in a large bowl and toss with olive oil and ground spices until well coated. Place in a large roasting pan and bake until vegetables are tender, 20-25 minutes.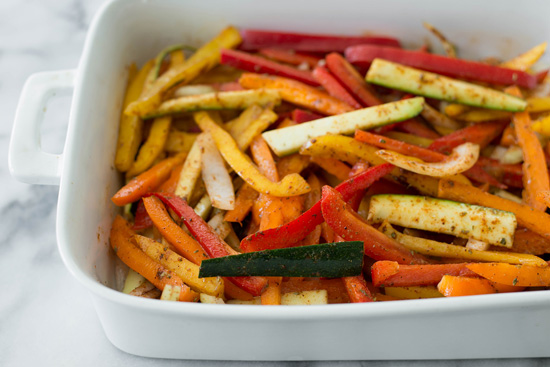 Remove from oven and divide into warmed tortillas. Top as desired and serve.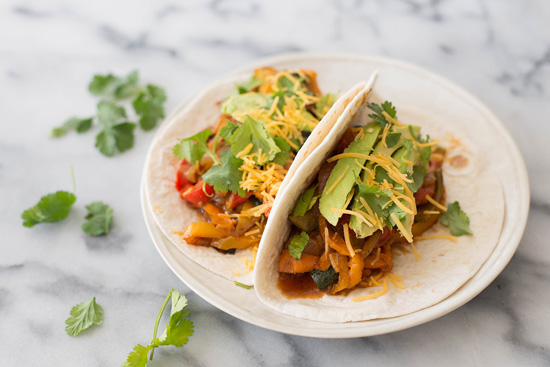 Per serving (2 fajitas): 405 calories, 11g fat, 2g saturated fat, 0mg cholesterol, 67g carbohydrates, 12g sugar, 11g protein

Photo Credit: Alex Caspero