Apricot season ends in the United States around August and it's a shame because these summer gems make for wonderful fall flavors. However, any late harvest apricots at the store will be on sale and perfect for making a savory chutney.
So what is a chutney? Originating in India, the chutney was an intensely flavored condiment made from fruits or vegetables. In modern cuisine it's safe to think of a chutney as a chunky relish with either savory or sweet elements.
I created this particular recipe to pair with a grilled or plank smoked salmon. My wife thought it was delightful as a topping for BBQ chicken and that it played well with a spicy BBQ sauce.
I dare you try it on vanilla ice cream or with a warm piece of banana bread!
Orange Apricot Chutney Recipe
Serves 10
Ingredients
8 oz – Apricot, Raw
1/4 cup – Granulated Sugar
1/4 cup – Water
1/4 cup – Orange Marmalade
1 tsp – Thyme, Fresh
1 tsp – Mustard, Dijon, Whole Grained
Directions
PREP
Remove pit and rough chop apricots.
Pull leaves from sprig and rough cut thyme.
COOK
1. Add all ingredients into sauce pot.
2. Bring to simmer.

3. Reduce heat to low simmer.
4. Continue to cook until most of the water boils out and consistency begins to get syrupy.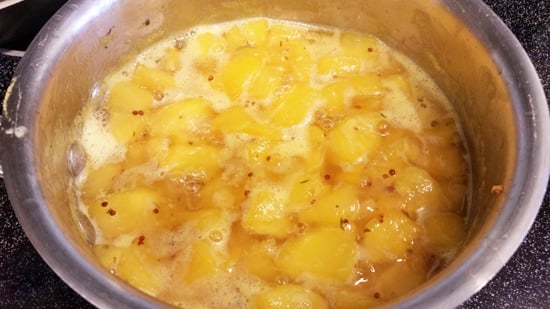 Can cook longer for thicker sauce.
Nutrient Analysis:
Calories: 49.47 kcal, Protein: 0.52 g, Carbs: 12.24 g, Total Fat: 0.09 g
Sat Fat: 0.01 g, Cholesterol: 0.00 mg, Sodium: 10.97 mg, Fiber: 0.46 g
Photo Credit: Andrew Dole