I can't say enough good things about these muffins! I've made three different batches of them in the past week to share with friends and co-workers, each to rave reviews. They are perfectly moist, flavorful and the just right amount of tart, thanks to fresh cranberries. Put these on your must-make list this winter!
These muffins are a little more wholesome than traditional muffins, using applesauce and low-fat buttermilk to help cut down on the overall oil content. If you like your muffins with more fiber, feel free to substitute in whole-wheat pastry flour for some or all of the flour. I prefer pastry flour as it has less protein than regular flour, creating a more tender crumb that's perfect for muffins and cakes. Sometimes, using regular whole-wheat flour can result in a too-tough product.
You can find fresh cranberries in the produce section of most grocery stores, and I recommend buying more than you think you'll need. Fresh cranberries freeze wonderfully right in the bag, no prep work required. I keep a few bags on hand to use throughout the year in smoothies, breads, cakes and now – these muffins.
Oatmeal Cranberry Muffins Recipe
Ingredients
1 ¼ cups flour
1 ¼ cups rolled oats (not steel cut)
1 teaspoon baking powder
½ teaspoon baking soda
¼ teaspoon salt
1 teaspoon cinnamon
½ teaspoon grated ginger
¼ teaspoon ground cardamom
½ cup applesauce
½ cup low-fat buttermilk
½ cup brown sugar
1 egg, beaten
1 teaspoon pure vanilla extract
½ cup walnuts
¾ cup fresh cranberries tossed with 2 tablespoons sugar
Directions
Preheat oven to 375° F.
Combine the flour, oats, baking powder, soda, salt and spices in a large bowl.
In a separate bowl, whisk together the applesauce, buttermilk, sugar, egg and vanilla until well-mixed. Add the applesauce mixture to the oatmeal mixture and stir until just combined.
Stir in the walnuts and cranberries.
Line a muffin tin with paper liners or lightly spray with cooking spray. Fill 2/3 of the way full and bake for 16-18 minutes until golden browned and toothpick inserted comes out clean.
Enjoy as is or with a smear of nut butter- my favorite way to eat these!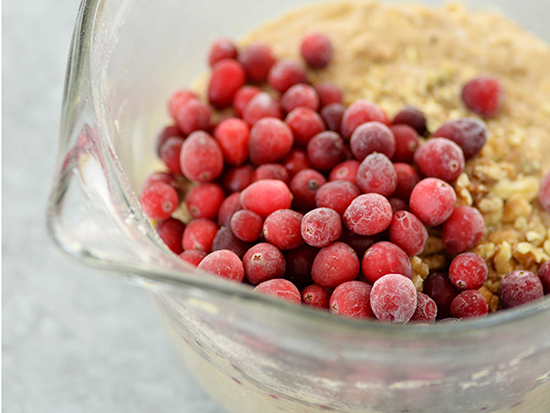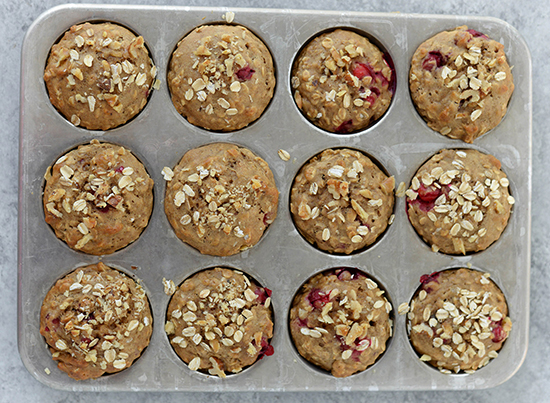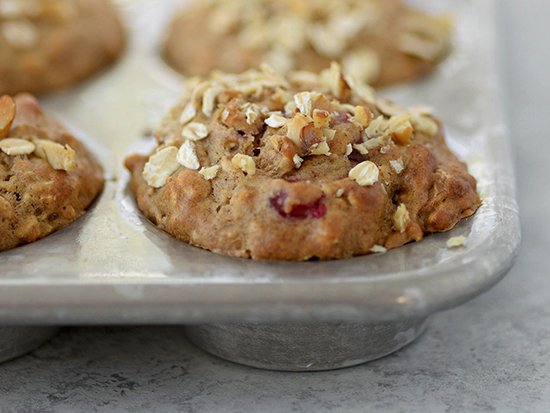 Nutrient Analysis
Per muffin: (12) 167 calories, 5g fat, 1g saturated fat, 16mg cholesterol, 172mg sodium, 115mg potassium, 28g carbohydrates, 12g sugar, 2g fiber, 4g protein
Photo Credit: Alex Caspero