The Everyday Chef: How to Make the Ultimate Grilled Cheese! Grilled Halloumi Cheese w/ Berries & Herbs
I first enjoyed grilled halloumi years ago, when my mom was flirting with a lower-carbohydrate diet and picked up a package of halloumi on a whim. Gooey, firm and salty, it's since become one of our favorite grilled items.
Halloumi is a sheep's cheese from Cypress, known for its firm texture and high melting point. It can be pan-fried, seared, and grilled—but if you can't find halloumi, you can substitute cotija instead. The hot cheese pairs perfectly with the cool berries and bright mint. I like serving this dish on a platter – a stack of grilled halloumi topped with the prepared berry salad. Enjoy like a salad, or serve alongside toasted crostini for a simple summer appetizer.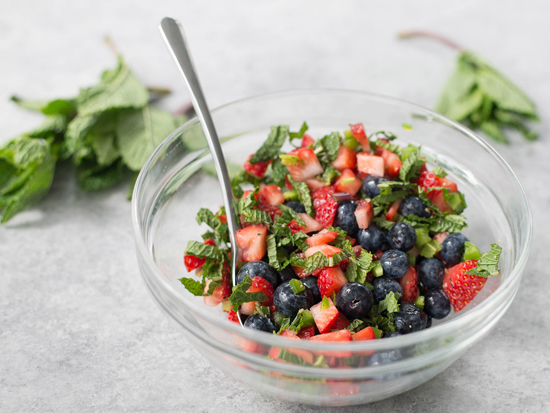 Grilled Halloumi Cheese w/ Berries & Herbs Recipe
Ingredients
¾ pound halloumi, sliced
¾ cup strawberries, chopped
¾ cup blueberries
1 tablespoon finely chopped jalapeno pepper
3 tablespoons freshly chopped mint
2 teaspoons olive oil
¼ teaspoon freshly ground pepper
Directions
Heat an oiled grill or a grill pan over medium heat.
Combine all of the ingredients for the salad in a medium size bowl, set aside.
Add the slices of halloumi and grill until soft and char-marks appear, about 2 minutes per side.
Place the grilled halloumi on a platter and top with salad. Serve immediately.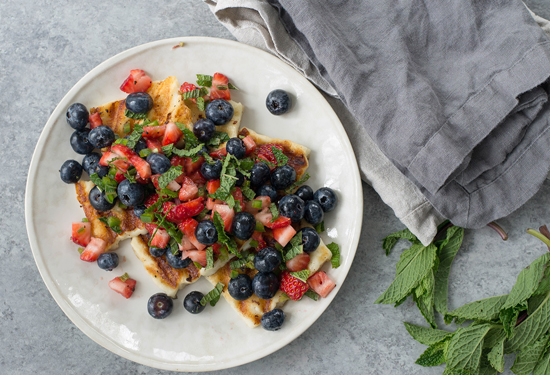 Nutrition Info
Per serving (4): 199 calories, 15g fat, 522mg sodium, 142mg potassium, 50mg cholesterol, 10g carbohydrate, 7g sugars, 1g fiber, 9g protein
Photo Credit: Alex Caspero