Frozen watermelon cubes are pretty glorious. I discovered them as a happy accident when I was overflowing with fresh watermelon last summer and decided to freeze some to preserve for later use. A few days later, I tossed them into my smoothie and, to my surprise, the frozen watermelon became a secret-weapon ingredient! The cubes turned my smoothie into a thick, frozen treat that reminded me a fruit-flavored frosty. On hot summer days, I'll toss a bunch in the blender with a splash of juice for a quick and refreshing treat.
The below recipe takes an extra step, combining both frozen watermelon cubes and freshly squeezed lemon juice. It's a deliciously tart and refreshing summer beverage!
Depending on the strength of your blender you may need to play around with the ratios of the frozen watermelon to the liquid. A high-powered version (like a BlendTec or VitaMix) should be able to handle the recipe as written, but if it's too thick, add in a splash or two of lemon juice or water. I typically start without any extra liquid, then add as needed.
If you're using a regular blender, you might want to start with smaller watermelon chunks, pulsed down, then added to the rest of the liquids. Remember, you're looking for a thick, frosty-like consistency, not a juice or a thin smoothie.
Cheers to summer!
Frozen Watermelon Slushies Recipe
Ingredients
4 cups frozen watermelon cubes
2 tablespoons honey
½ cup fresh lemonade juice
2 tablespoons water
Directions
1. Cube the watermelon and place in a single layer on a baking sheet and freeze for at least 2 hours. Keep frozen until ready to use.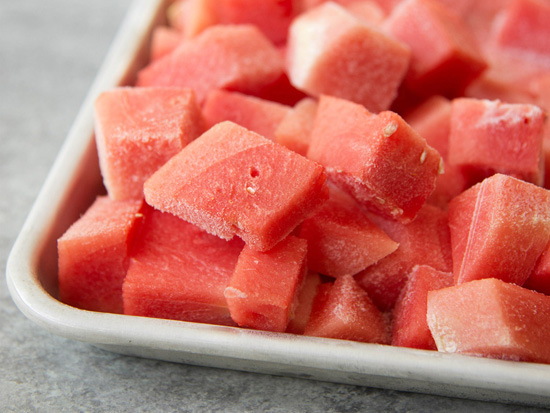 2. Place all of the ingredients in a high-powered blender (if you use a regular blender, you may need to add the frozen watermelon cubes in batches): frozen watermelon cubes, honey and lemon juice. Purée until thick, then slowly add in water (as needed) until a thick and creamy texture develops. Depending on the strength of your blender, you may need less or more water. Taste and add more sweetener as needed.
3. Divide into 4 glasses and serve!
Nutrition Info
Per serving (4): 81 calories, 0g fat, 0g saturated fat, 0mg cholesterol, 2mg sodium, 191mg potassium, 21g carbohydrates, 18g sugars, 1g protein, 1g fiber
Photo Credit: Alex Caspero