It's hard to escape fresh sweet corn in the summer, especially in the Midwest. Although, I don't know why you'd want to. Crispy, refreshing and slightly sweet, it's one of my favorite side dishes from July through September. If you like polenta, then you must try this version using fresh corn.
The concept is fairly simple. Shuck the fresh kernels, steam just enough to create a tender bite, then purée into a thick porridge. Put the whole mixture back into the saucepan and season with a bit of butter, salt and pepper. While it's incredibly rich on its own, the possibilities for serving are endless. Consider stirring in feta, sharp cheddar, goat cheese or a fruity olive oil at the end.
My favorite way to serve this is with sautéed zucchini and cherry tomatoes on top, along with plenty of fresh basil and parmesan cheese. It's a summer take on the heartier, more winter-appropriate dish of stone-ground polenta with ragù.
Fresh Corn Polenta w/ Zucchini & Cherry Tomatoes Recipe
Ingredients
6 ears fresh corn
½-¾ teaspoon salt
½ teaspoon freshly ground pepper
2 tablespoons butter
Directions
1. Shuck the corn and remove as much of the silk as possible. Slice the kernels into a large bowl, running the back of your knife along the bare cob to remove as much of the remaining kernels and milk as possible.
2. Place the corn (and any juice) in a medium saucepan along with enough water to cover by 1 inch. Bring to a boil, then reduce heat to a simmer. Cook for 5-7 minutes until corn is just tender.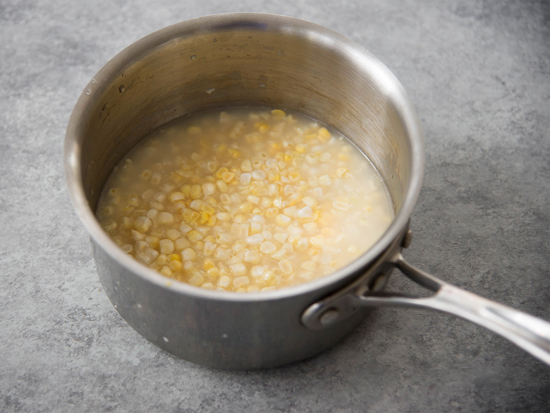 3. Drain corn and place in a food processor along with 1/2 teaspoon salt and pepper. Purée until very smooth, a polenta-like consistency.
4. Return polenta back to the saucepan and simmer over low heat with the butter and additional salt/pepper as needed. Keep warm until ready to serve.

Nutrition Info:
Per serving: (4) 193 calories, 8g fat, 4g saturated fat, 15mg cholesterol, 293mg sodium, 327mg potassium, 31g carbohydrates, 7g sugars, 4g fiber, 5g protein
Photo Credit: Alex Caspero