Even though apples are available year round, they become one of my favorite fruits during the fall months. Every year, I convince my husband to take the hour drive into the Sierra foothills so I can load up on baskets of freshly picked apples then stop for a mug of hot apple cider and apple donut on the way home. It's become our October ritual, one I look forward to the moment the leaves change color. While I typically use the apples to freeze pies for the upcoming holidays, I always save enough to make these cinnamon apple chips.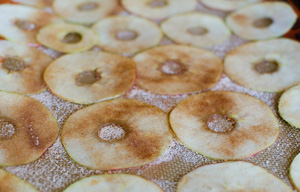 Apple chips taste just like a mini apple pie! Crispy baked apple rings layered with cinnamon and sugar … indulgent enough for dessert, yet healthy enough for a snack. To make these chips as crispy as possible, slice them as thinly as you can. Thicker sliced apples will be mushy and soft once baked. I use my mandolin to get the apples razor thin but a sharp knife will work as well. Along the same lines, I prefer to core the apple before I slice but if you don't have an apple corer just slice the apples thin and then remove any visible seeds. For easy cleanup, place the apple slices on a non-stick baking mat or parchment paper.

Cinnamon Apple Chips Recipe
Ingredients
3 apples, cored and sliced thin
3 tablespoons ground cinnamon
3 tablespoons sugar
⅛ teaspoon grated fresh nutmeg
Directions
Preheat oven to 200°F.
Mix together the cinnamon, sugar and grated nutmeg. Place apples in a single layer on baking sheet, lined with parchment paper or non-stick baking mat. Sprinkle with the cinnamon mixture, using your fingers to spread mixture evenly over the apples.
Bake for 1 hour then flip and bake an additional hour. When finished, turn off the oven and allow apples to sit for another 30-60 minutes to crisp up with oven off.
Enjoy! Store any leftovers in an airtight container for 2-3 days. They will become softer the longer they sit.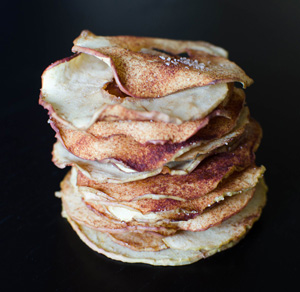 Photo Credit: Alex Caspero