Alex Caspero, MA, RD, CLT
Everyday Chef, Fruits & Veggies—More Matters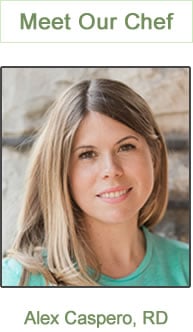 This fun taco dish is hearty and healthy! Packed with protein and fiber, it's an easy vegetarian entrée that the entire family will love.



Lentil, Potato & Spinach Tacos Recipe
Makes 8 Tacos

Ingredients
1 tablespoon olive oil
2 cups chopped potatoes
1/4 teaspoon salt
½ teaspoon ground cumin
¼ teaspoon smoked paprika
1 cup cooked lentils
4 cups spinach leaves
½ cup non-fat Greek yogurt
2 tablespoons fresh lime juice
1 chipotle pepper in adobo sauce
¼ teaspoon ground cumin
¼ teaspoon cayenne pepper (or less, if desired)
Pinch of salt/pepper
8 tortillas

Directions
Heat 1 tablespoon oil in a large skillet over medium heat. Add in the potatoes, salt, cumin and paprika and cook for 10 minutes, stirring often, until golden brown and crispy. Add in the cooked lentils and spinach and cook until spinach wilts, about 2-3 minutes. Season to taste, if needed.

Place the Greek yogurt, lime juice, pepper, cumin and cayenne in a food processor or blender and purée until creamy and smooth. Season to taste, if needed, with salt and pepper.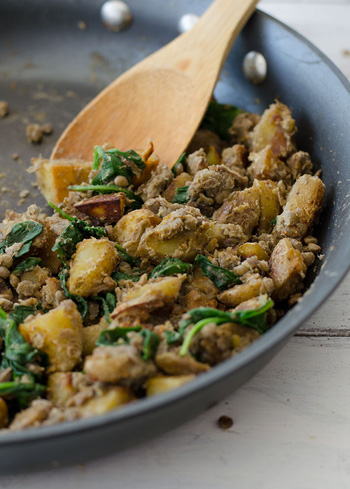 Divide the filling among the tortilla shells and top with chipotle sauce.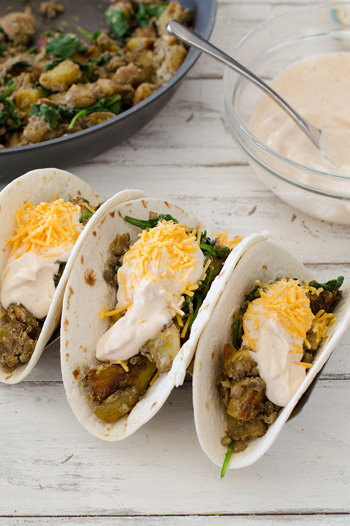 Nutrition Info
Per taco: 137 calories, 2.7g fat, 0mg cholesterol, 24.3g carbohydrates, 6g fiber, 2g sugar, 5.3g protein

Photo Credit: Alex Caspero