Alex Caspero, MA, RD, CLT
Everyday Chef, Fruits & Veggies—More Matters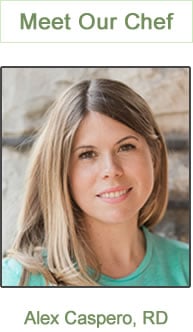 Now that it's officially summer, I have been craving more raw vegetables and salads. Once temperatures reach 90°F the thought of turning on my stove sounds about as appealing as a hot bowl of soup. Of course, my thoughts never stray too far from pasta. How about some zucchini pasta then? Cool, crunchy zucchini noodles are the perfect summer pasta swap.

If you've never used zucchini as a pasta substitute then you are in for a treat! While I am including two no-cook sauces here, you can treat zucchini noodles just like you would your favorite pasta. This is a perfect recipe to make with kids old enough to handle a vegetable peeler, as they are really fun to make! While you can purchase a spiralizer to make long spaghetti-like strands, I turn to the tools I've already got on hand: a julienne peeler, vegetable peeler or mandolin.
Making Zucchini Noodles aka "Zoodles"
First, wash and lightly peel the zucchini. You can keep the skin on if you'd prefer.
Gently run a peeler over the zucchini until strings of noodles come off. A vegetable peeler will create wide, flat noodles while a julienne or mandolin peeler will create thin strings. Place the peeled noodles in a large bowl and finish the rest of the zucchini.
Since zucchini holds a lot of water, I like to toss the noodles with a bit of lemon juice to prevent browning and let it sit in a colander over a bowl to let some of the excess water drain off. )If you're in a hurry, you can skip this step although it does prevent overly soggy noodles.)
Enjoy raw or cooked! Since I usually pair my zucchini noodles with an equally effortless no-cook sauce, I enjoy them raw. However, they also taste great cooked! Heat a large skillet with a bit of olive oil and add the noodles. Cook until just heated through and toss with sauce. For a simple side, heat the noodles and season with salt, pepper, minced garlic and a pinch of Parmesan cheese.
My Recipes
Zucchini Noodles with High-Protein Pesto
This pesto is low fat and high protein, thanks to a secret ingredient – white beans!

Ingredients
4 large zucchini, sliced into noodles
1.5 cups packed basil leaves
2 cloves garlic
2 tbsp. Parmesan cheese
1 cup white northern beans (cannellini beans)
1/2 cup walnuts
1/2 tbsp. white wine vinegar or fresh lemon juice
2 tbsp. water
2 tbsp. olive oil
salt/pepper
1 cup chopped tomatoes

Instructions
Place the following ingredients in the food processor: basil, garlic, cheese, beans, walnuts and vinegar. Coarsely chop until the mixture looks like fine meal. With the blade running, pour in the olive oil and water and continue to process for ~30 seconds until fairly smooth. If the sauce is too thick, slowly add more water. Season to taste with salt and pepper.

Toss zucchini noodles with sauce and chopped tomatoes. Serve immediately.
Zucchini Noodles with Sun Dried Tomato Cream Sauce
This dairy-free sauce relies on cashews for a creamy consistency similar to alfredo sauce. Don't worry, it doesn't taste like cashews!

Ingredients
4 zucchini, sliced into noodles
1 cup raw cashews, soaked in water for at least 30 minutes
3/4 cup vegetable broth
1/2 cup sun-dried tomatoes
1 tbsp. Parmesan cheese (can sub nutritional yeast for completely dairy-free version or leave it out)
1 clove garlic
1 tbsp. lemon juice
Salt and pepper,  to taste

Drain and rinse the cashews. Place in a high-powered blender with the remaining ingredients: broth, tomatoes, cheese, garlic and lemon juice. Purée until very silky and smooth (this can take anywhere from 1-5 minutes depending on the strength of your blender). Season to taste with salt and pepper.

Toss zucchini with cream sauce and serve immediately.
Photo Credit: Alex Caspero