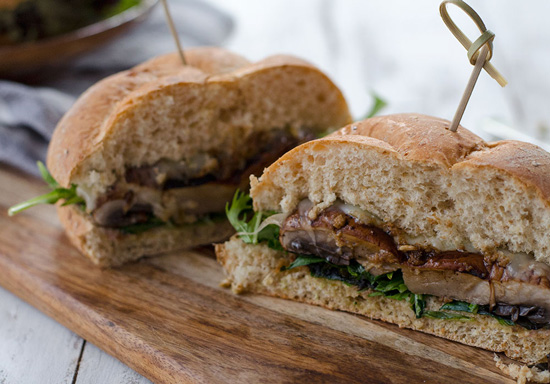 Don't get me wrong, I love a good vegetable burger as much as the next person, but I dislike the often complicated process that homemade patties require. On a sunny summer day, I want to spend as much time as possible enjoying the outdoors, not stuck in the kitchen. For those days, I reach for these marinated portobello burgers. Meaty, tender and perfect for the grill.
The key to these vegetarian burgers is treating them like meat. Soaking the caps in a flavorful marinate before grilling tenderizes the mushroom and infuses a savory, salty flavor into each bite. While any jarred marinade will work in a pinch, I prefer this quick balsamic and soy version. Both the vinegar and the soy sauce add in another layer of umami flavor to the mushroom caps while a bit of oil prevents the mushrooms from sticking to the grill grates. Steak seasoning is the secret weapon here, another reason for even the most die-hard omnivore to love this plant-based version.
You can dress these burgers however you prefer, but I prefer the combo listed below. A slice of provolone cheese, a dollop of pesto, and a handful of arugula elevate the simple mushroom patty. Once you try this portobello version, try it with other vegetables! I use the same marinade with eggplant, bell peppers and zucchini. Grilled in the same way, it makes for a beautiful summer platter or hearty vegetable sandwich.
Grilled Portobello Burgers Recipe
4 portobello mushroom caps
2 tablespoons balsamic vinegar
1 tablespoon low sodium soy sauce
1 tablespoon olive oil
1-1/2 tsp steak seasoning like Montreal Steak Grill Mates
4 slices provolone cheese
4 tablespoons prepared pesto
1 cup arugula leaves
4 ciabatta rolls, toasted
Preheat a grill or grill pan over medium heat. In a large bowl, whisk together vinegar, soy sauce, oil and Montreal steak seasoning. Place the mushroom caps in the bowl and toss with sauce, using a spoon to evenly coat. Let stand at room temperature for 25 to 30 minutes, turning a few times.
Place the mushrooms on a grill, reserving leftover marinade in a bowl to baste with. Grill for 5-7 minutes on each side, until tender and slightly blackened. Top the mushrooms with 1 slice cheese during the last minute of cooking. Then top with 1 tablespoon pesto to heat slightly.
Assemble the burgers. Place the portobello burgers on the ciabatta rolls and top with arugula leaves.
Nutrition Info per sandwich (4): 298 calories, 19.3g fat, 6.5g saturated fat, 23mg cholesterol, 493mg sodium, 128mg potassium, 17.7g carbohydrates, 1.4g fiber, 1.7g sugar, 12.7g protein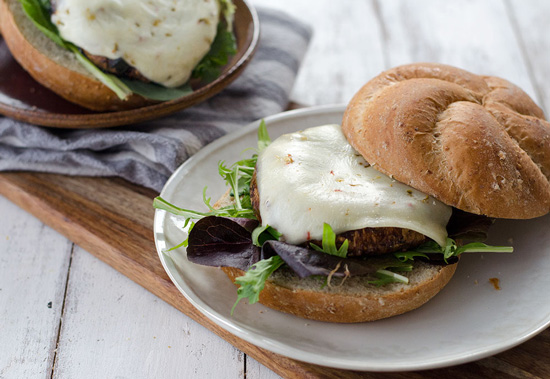 Photo Credit: Alex Caspero