Alex Caspero, MA, RD, CLT
Everyday Chef, Fruits & Veggies—More Matters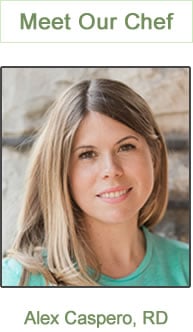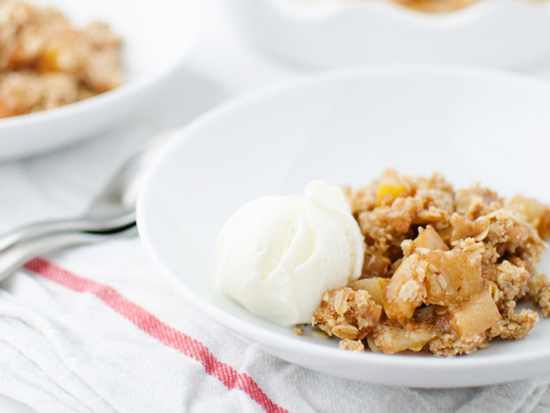 I was craving a warm dessert a few nights ago when temperatures were barely above freezing, and nothing sounded better than a fruit crisp on the couch with a movie. If you love apple crisp as much as I do, then you have to try it with pears. They're so perfectly sweet they practically melt into the oat topping.

I didn't set out to include so much ginger, but after playing around with different ratios I kept wanting more. The inclusion of extra ginger is unexpected, though definitely welcomed. For the pears, make sure they aren't overly ripe since you don't want them to fall apart when the crisp bakes. To keep things gluten-free, I've used rolled oats to create a quick oat flour base. Simply place the oats in a food processor and blend until a fine powder forms. Then, combine with the rest of the ingredients.

Ginger Pear Crisp Recipe

Ingredients
3 pears, diced
1 lemon, juiced
½ cup brown sugar, divided
1 tbsp. corn starch
1 tsp. cinnamon, divided
1 tsp. ground ginger, divided
¼ cup coconut oil
¾ cup rolled oats, divided
¼ cup almond meal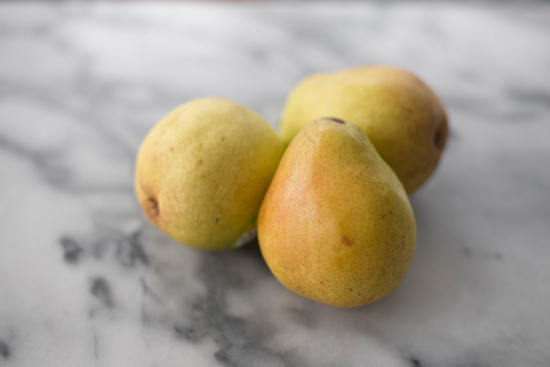 Directions
Combine the diced pears with lemon juice, ¼ cup brown sugar, 1 tbsp. cornstarch, ½ tsp. cinnamon, ½ tsp. ground ginger in a bowl.
Place in a baking dish.
Place ¼ cup rolled oats in a blender or food processor. Blend until a fine powder forms, like a flour.
Wipe out the bowl and add the oat flour, remaining oats, remaining ¼ cup brown sugar, coconut oil, almond meal and ½ tsp. cinnamon and ½ tsp. ginger. Blend together.
Crumble the almond-oat mixture on top of the pears.
Bake at 350°F for 45 minutes until golden brown.
Remove from oven and let cool slightly. Enjoy as is or top with ice cream.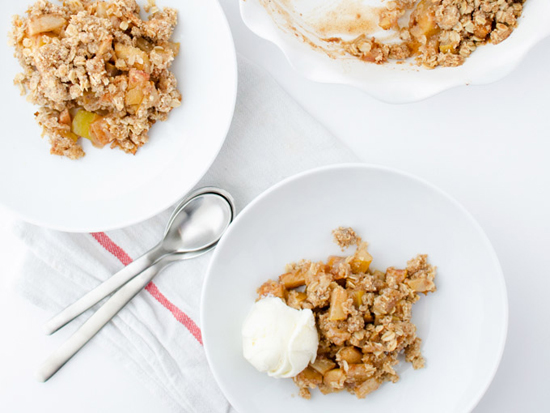 Nutrition Info
Per serving (8): 191 calories, 9g fat, 6g saturated fat, 0mg cholesterol, 4mg sodium, 157mg potassium, 28g carbohydrates, 4g fiber, 16.7g sugars, 2g protein
Photo Credit: Alex Caspero