Ever since I discovered the magic of banana 'ice cream,' I've been thinking of different ways to enjoy the creamy, custard-like filling that frozen bananas provide. I love them puréed in a blender with fruit and milk for a take on a milkshake, or covered in chocolate like these simple coins.
This is a great snack alternative to ice cream and an easy way to let kids help out in the kitchen. Slice the bananas then place in the freezer. You'll want the bananas frozen before dipping in the chocolate so they don't melt. Melt the chocolate on either the stove or in the microwave, then dip bananas in the chocolate and return back to the parchment paper.
If you're cooking with kids, let them help you with this step. They can either drizzle the chocolate onto the frozen coins or … have them dip into the mixture with their hands. You likely won't need all of the chocolate, but you'll want extra to be able to dip properly.
Return the chocolate-covered bananas back to the freezer to chill for another hour or two to harden, then enjoy. These will keep in an air-tight container for up to three (3) weeks in the freezer.
Frozen Chocolate Banana Coins Recipe
Ingredients
2 large bananas, sliced
1 cup chocolate chips
1 tablespoon coconut oil
Directions
1. Slice the bananas and place on a parchment-lined baking sheet. Place in the freezer until hardened, about 1 hour.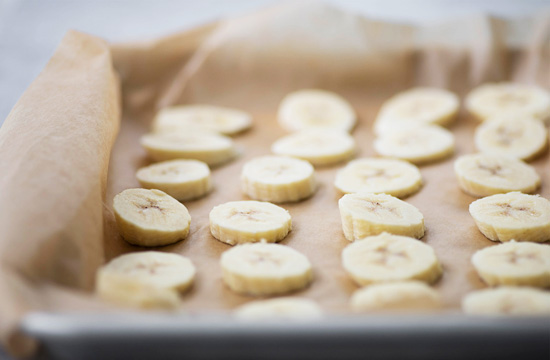 2. Melt the chocolate and coconut oil in a double-boiler over medium heat or in the microwave, heating in thirty-second increments so not to burn.
3. Remove the bananas from the freezer, then dip the frozen banana coins into the chocolate and place back on the parchment baking sheet. Return back to the freezer until hardened, about one hour.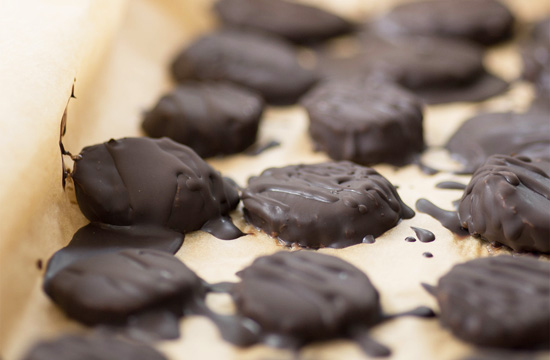 Nutrition Info
Per serving (1/16th recipe, about 2-3 coins): 71 calories, 4g fat, 1mg sodium, 91mg potassium, 0mg cholesterol, 10g carbohydrates, 8g sugars, 1g protein, 1g fiber
Photo Credit: Alex Caspero