Alex Caspero, MA, RD, CLT
Everyday Chef, Fruits & Veggies—More Matters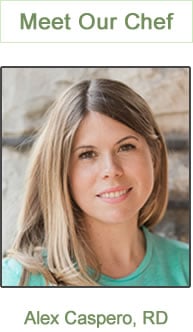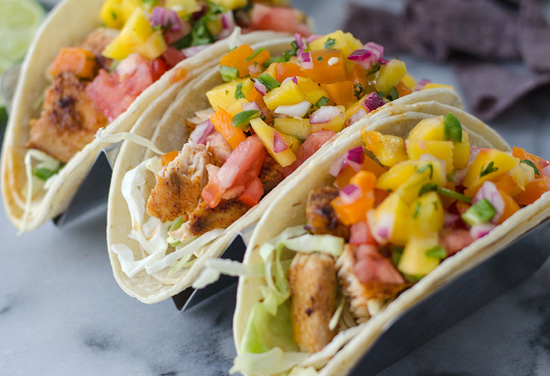 I arrived back to St. Louis last week from our annual family trip to the Outer Banks of North Carolina. I've been vacationing there since I was a little girl, and driving over the long bridge to get to the barrier islands always reminds me of sandy beach days, late-night ice cream cones and many failed surfing attempts. The Outer Banks is also home to one of my favorite meals, blackened mahi-mahi tacos. It's become our ritual to stop for lunch on our way into town; nothing says beach vacation like a first meal of blackened fish tacos and fresh mango salsa.

This is my attempt of those famous tacos. Though part of the enjoyment is getting to eat just steps from the ocean, these tacos are memorable enough to enjoy in even the most land-locked destinations. Combine the homemade spice mix together, rub on the mahi and sear until crispy and tender.

The real star of these tacos is the fresh mango salsa that's generously piled on top. Since July and August are peak mango season, now is the perfect time to grab a few at the market and make this salsa. The pairing of slightly spicy, crispy fish and cooling mango salsa is delicious, but you don't have to stop there! Enjoy this salsa on top of black beans, with corn tortilla chips, quesadillas and anywhere else you'd normally enjoy salsa.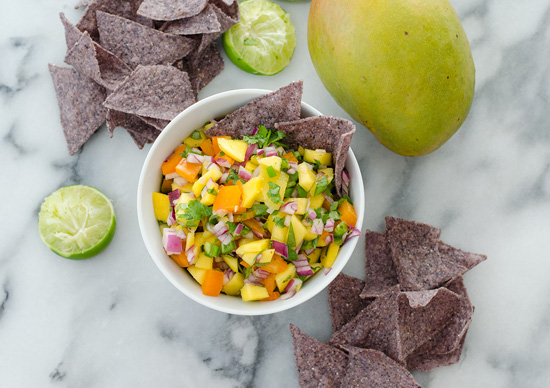 To prep the mango, peel from top to bottom, working your way around the mango to remove the skin. Place the mango on a cutting board and find the side that seems the tallest, the pit will be sitting on that line. Hold the mango firm and slice down, starting at the top, adjusting the angle of the knife to work around the pit. Continue to remove all flesh of the mango, discarding the pit. Finally, dice the mango for use in this salsa.

Fish Tacos with Fresh Mango Salsa Recipe

Mango Salsa

Ingredients
2 diced mangos
1 chopped red bell pepper
1 minced jalapeno pepper
⅓ cup finely chopped red onion
¼ cup chopped cilantro
¼ cup fresh lime juice
¼ teaspoon cumin
salt, to taste.

Mahi-Mahi Tacos

Ingredients
1 teaspoon smoked paprika
1 teaspoon dark brown sugar
½ teaspoon garlic powder
½ teaspoon onion powder
½ teaspoon salt
¾ teaspoon ground cumin
¼ teaspoon chili powder
1 pound Mahi Mahi filets, cut lengthwise into smaller pieces if needed
1 tablespoon vegetable oil
8 tortillas (corn or flour)
1 cup green cabbage, sliced thin
Cilantro, for garnish

Instructions
Combine all ingredients for the mango salsa together. Season to taste, if needed, with salt. Set aside.
Combine paprika, brown sugar, garlic powder, onion powder, salt, cumin and chili pepper in a small bowl. Sprinkle seasoning evenly over both sides of the fish filets.
Heat oil in a large cast-iron skillet or sauté pan over medium-high heat. Add the mahi-mahi to pan; cook 2-3 minutes on each side or until cooked through.
Divide fish evenly among tortillas. Serve with mango salsa, cabbage, and cilantro.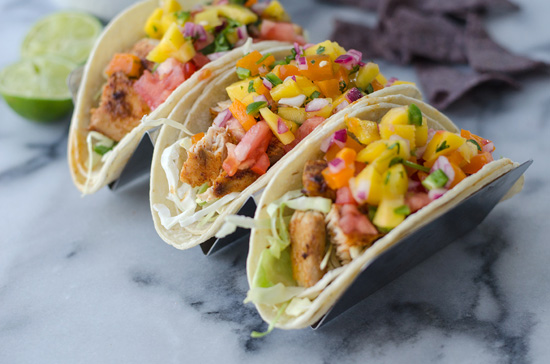 Photo Credit: Alex Caspero