Tired of lots of added sugar in your granola? This recipe has only 3 grams of sugar per serving with a bonus 5 grams of protein! Using bananas as the binder for this granola solved two problems: 1) what to do with the 3 overripe bananas always left on the counter, and 2) how to make a cluster granola without any added sugars.
When was the last time you looked at the nutrition label for a bag granola? Were you astonished at the amount of sugar per serving? How can something with so much sugar be considered healthy? As a dietitian, granola is among a small list of foods that are frustrating, because its perceived as good for you when most of the time its packed with calories, sugar, or both. Here's why…
Clustered granola needs to be bound together and 99% of the time the binding ingredient is sugar based (honey, agave, brown sugar, corn syrup or maple syrup). In an attempt to lower the added sugar content, many granolas are now packaged as "loose." But this doesn't always do the trick. Let's face it … dry, unsweetened granola isn't that yummy so add-ins like dried fruit, chocolate, or nuts are added but that boosts the calorie content, making it easy to eat excess calories. So … here's my solution!
Banana Bound Granola
Serves 16
Ingredients
3 cups – Oats, rolled, quick (oatmeal), dry
¼ cup – Sunflower Seed Kernels, dry-roasted
1 cup – Quinoa
¼ cup – Golden Flax Seed
3 medium Bananas
¾ cup – Water
1 tsp – Cinnamon, ground
1 tsp – Pure Vanilla Extract
2 tbsp – Canola Oil
½ tsp – Coarse Kosher Salt
Directions
Preheat oven to 350°F.
Rinse quinoa and set aside to drain.
In blender, combine bananas, water, cinnamon, oil, vanilla extract, and 1/2 tsp salt. Blend until smooth.
In separate bowl mix oatmeal, rinsed quinoa, flax seed, and sunflower seeds.
Combine wet and dry mixtures. Fold to mix well.
Spread onto lined baking sheet.
Bake at 350°F for 30 minutes on top rack. Rotate baking sheet every 10-15 minutes.
Reduce heat to 300°F bake until granola is brown and brittle in center approximately 15-20 minutes. Edges will brown a bit faster than middle.
Remove from oven. Place on rack and let air dry. When cool, break up and store in a lidded jar or zip bag.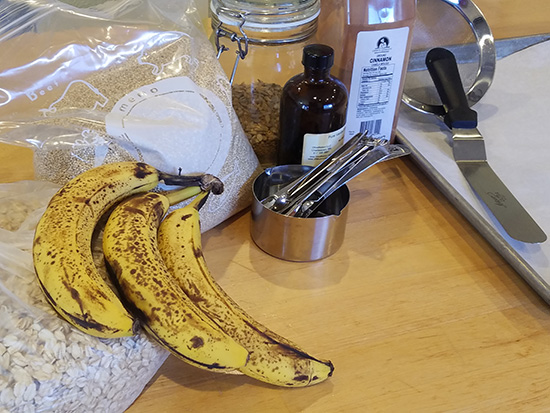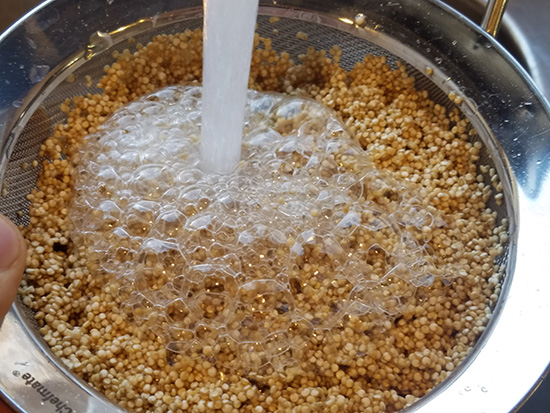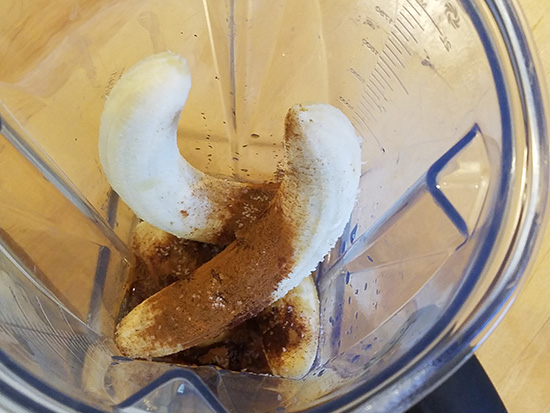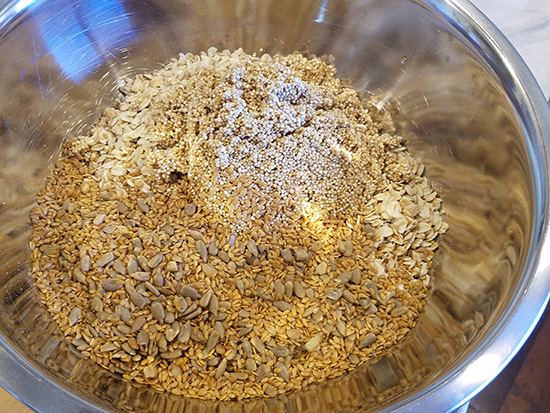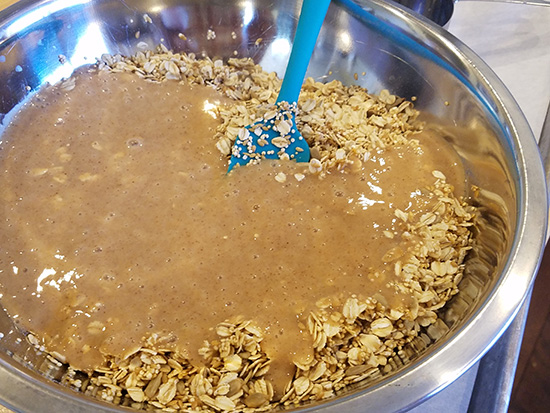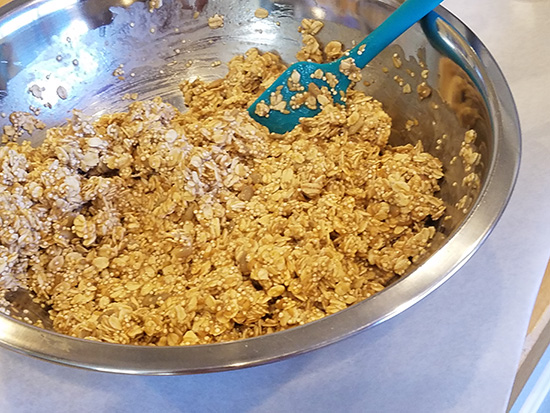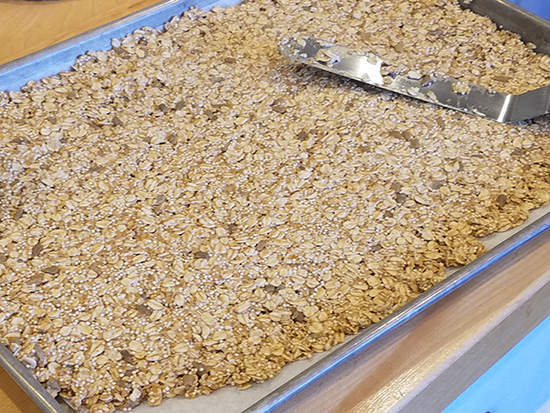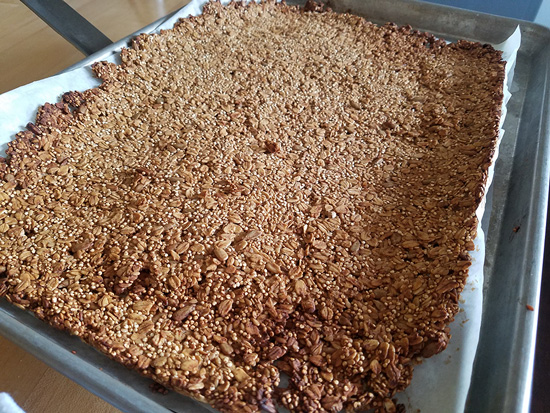 Nutrient Analysis
Calories: 157 kcal, Protein: 5 g, Carbs: 24 g, Total Fat: 5 g
Sat Fat: 0.4 g, Cholesterol: 0 mg, Sodium: 63 mg, Fiber: 3 g
Sugar: 3g
Photo Credit: Andrew Dole