Ask most people what their favorite vegetable is and I would almost bet that the french-fried potato tops that list. A mandatory side dish for summer burgers, grilled hot dogs, and crispy chicken. To cut down on calorie and fat content, I've lightened up deep-fried potatoes for a quick, oven-baked version.
Most recipes for baked fries will say to soak the chopped potatoes first to release some starch and yield a crispier fry. I tried both soaked and un-soaked potatoes for this recipe and found very little difference between the two versions. Since soaking and drying takes quite a bit more time, I left it out. However, the key to these crispy fries is making sure the potatoes are sliced as uniform as possible for even cooking. Don't be tempted to cut down on the oil; two tablespoons go a long way and prevent the potatoes from drying out in the oven.
Crispy Oven-Baked Fries Recipe
Serves 4
Ingredients
3 large baking potatoes, cut into 1/4-inch-thick matchsticks
2 tablespoons canola oil
½ teaspoon salt
¼ teaspoon garlic powder
¼ teaspoon chili powder
Cooking spray
Directions
Preheat the oven to 425° F.
Wash and scrub the potatoes, then cut into ¼-inch thick slices. In a large bowl, toss the potatoes with the oil, salt, garlic powder and chili powder.
Coat a baking sheet with cooking spray and spread the potatoes in a single layer. Bake until golden and crisp, about 25-30 minutes.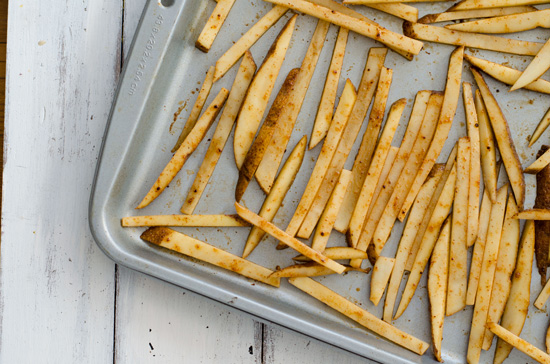 Per serving: 230 calories, 7.3g fat, 0.6g saturated fat, 0mg cholesterol, 315mg sodium, 945mg potassium, 39.6g carbohydrates, 3.1g fiber, 1.6g sugars, 4.5g protein
Photo Credit: Alex Caspero