Alex Caspero, MA, RD, CLT
Everyday Chef, Fruits & Veggies—More Matters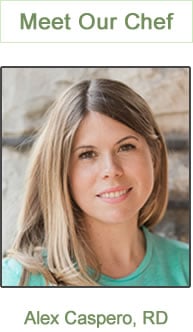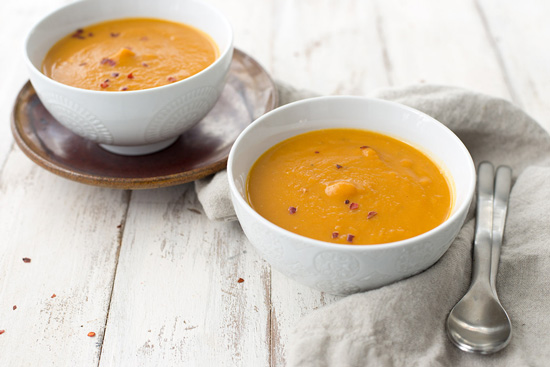 This roasted butternut squash soup is elegant enough to be served a formal dinner, yet simple enough for any weekly meal rotation. It's perfect on its own for a light meal or paired with a salad and grilled cheese for effortless eating. I kept the ingredients list fairly short so the squash flavor shines through, but the end result offers exceptionally rich flavor.

I added a bit of heavy cream to the final soup for added silkiness and creamy texture. However, for a dairy-free version, this step can be omitted or substituted with a drizzle of olive oil instead. Most of this soup's flavor comes from roasting the butternut squash first until it's caramelized. This is my favorite way to prepare squash, so feel free to cook more than you'll need (the little cubes are irresistible on salads and grain bowls). I rely on the pre-cut butternut squash cubes for ease, but if you are using the whole vegetable prepare like this: slice in half vertically, scoop out the seeds and place the whole squash directly on the baking sheet. Then, once it's tender, simply scoop out the flesh with a spoon into the pot and discard the skin.

Easy Roasted Butternut Squash Soup Recipe
Serves 4

Ingredients
2 pounds butternut squash, halved, peeled, seeded and diced into 1-inch pieces
2 carrots, peeled and diced
2 tablespoon olive oil, divided
1 ½ cups diced onion
2 garlic cloves, minced
⅛ teaspoon ground nutmeg
4 cups vegetable broth
¼-½ teaspoon salt
½ cup light cream

Directions
Preheat oven to 400°F. Toss the squash and carrots with 1 tablespoon olive oil, then arrange in a single layer on a baking sheet. Roast for 30-40 minutes until very tender.

Heat the remaining olive oil over medium heat in a large soup pan. Add the onion and cook until translucent, about 5 minutes. Stir in garlic, nutmeg, cooked butternut squash and carrots and cook for 1-2 minutes.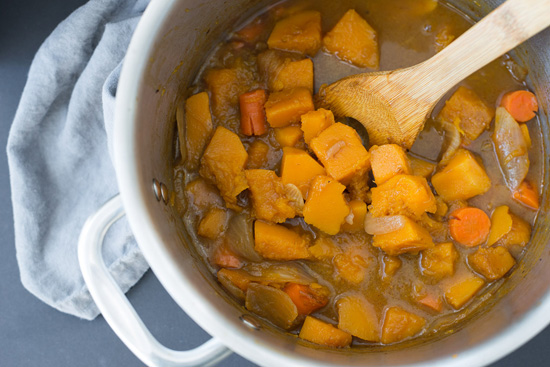 Add in the vegetable broth and simmer for an additional 5 minutes to let the flavors come together.

Place in a blender and purée until very smooth and creamy. Place soup back in the saucepan and add in the cream. Serve immediately.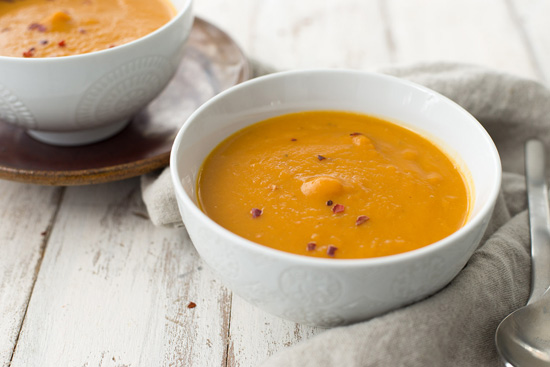 Nutrition Info
Per serving (4): 277 calories, 13.3g fat, 4.3g saturated fat, 17mg cholesterol, 948mg sodium, 1186mg potassium, 35.4g carbohydrates, 6.2g fiber, 9g sugar, 8.3g protein
Photo Credit: Alex Caspero