Alex Caspero, MA, RD, CLT
Everyday Chef, Fruits & Veggies—More Matters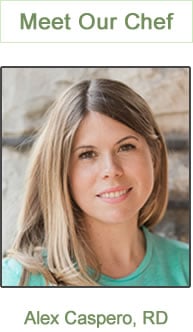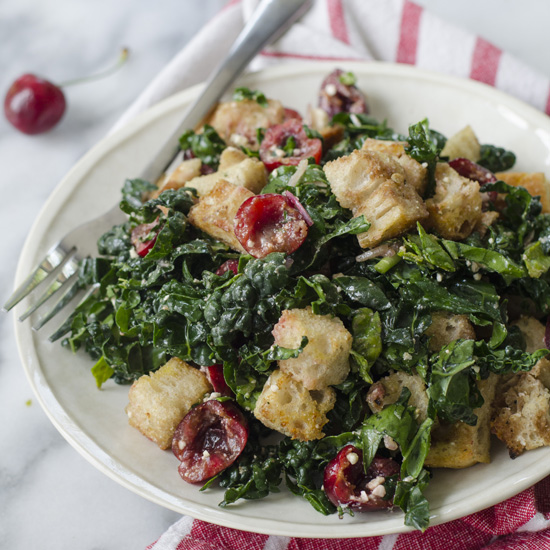 At the height of summer produce season season, this fresh salad takes advantage of juicy, sweet cherries for a perfect lunch or dinner salad. Panzanella, a Tuscan bread salad, is typically made with stale, dried bread that's then rehydrated with fresh tomato juice, vinegar and plenty of olive oil. While the tomato version is still one of my favorite salads this time of year, I love the unexpected contrast of sweet cherries, tender kale leaves, crispy bread crumbs and salty feta.

Don't have a cherry pitter on hand? No problem! Gather a pair of chopsticks and an empty wine bottle (or other narrow-neck bottle) and place the cherry on top. Use a chopstick to push out the pit—into a bottle (very little clean up). This trick is also a fun way to have kids join you in the kitchen, as long as they can steady a bottle and hold a chopstick.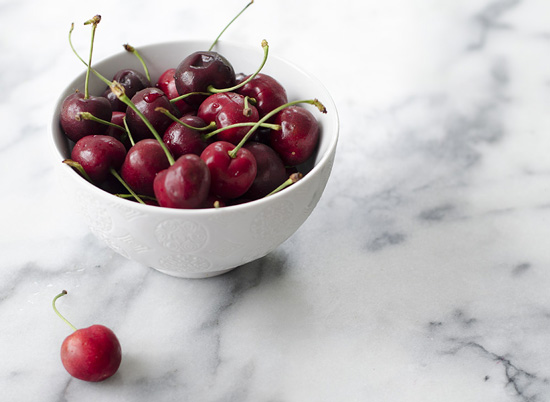 This cherry panzanella salad is an ideal make-ahead dish; the longer the mixture sits (up to 6 or so hours), the better it tastes. Make sure your bread completely dries out in the oven so it won't turn soggy as it sits. Just stale, old bread is perfect in this dish, though you can mimic the effects by keeping the bread in the oven for a few minutes longer.

Cherry Panzanella Salad Recipe
Serves 4

Ingredients
2 cups bread cubes
1 teaspoon olive oil
6 cups shredded kale
1 shallot, very thinly sliced
¼ cup crumbled feta cheese
¼ cup extra virgin olive oil
3 tablespoons balsamic vinegar
¼ teaspoon salt
¼ teaspoon freshly ground pepper
1 cup pitted, halved cherries

Preheat the oven to 400° F.

Directions
Toss the bread cubes with olive oil and a pinch of salt and pepper. Place in a single layer on a baking sheet and toast for 3-4 minutes, until golden brown. Remove cubes from oven and set aside to cool.

While the bread cubes are toasting, place the kale, shallot and feta in a large bowl and set aside.

Whisk together the olive oil, balsamic vinegar, salt and pepper. Add the bread crumbs to the salad bowl along with the dressing. Toss to combine, until kale is slightly wilted and bread crumbs have soaked up some of the dressing. Add in the cherries and toss one more time to combine. Season to taste, if needed, with salt and pepper.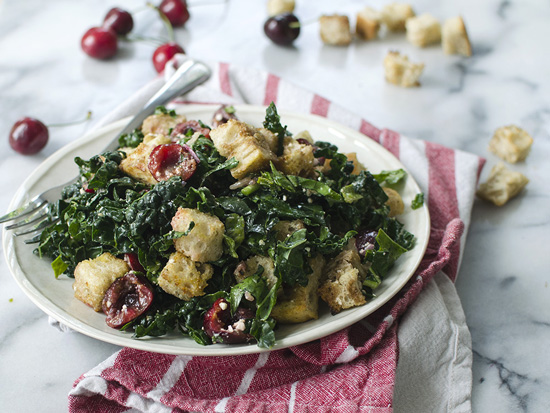 Per serving: 248 calories, 16.2g fat, 8mg cholesterol, 369mg sodium, 586mg potassium, 21.8g carbohydrates, 2.5g fiber, 5.7g protein

Photo Credit: Alex Caspero