Alex Caspero, MA, RD, CLT
Everyday Chef, Fruits & Veggies—More Matters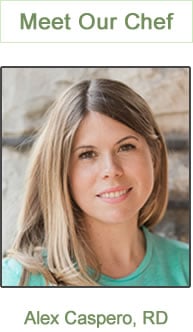 This gooey, satisfying mac and cheese recipe uses mostly pantry staples, and also manages to sneak in a healthy serving of leafy greens – with 29g of protein per serving. Instead of a traditional béchamel sauce, a simple purée of Greek yogurt, cottage cheese and eggs creates a cheesy custard to rival even the best baked mac and cheese. While there is a still a hearty serving of shredded cheddar (it's still macaroni and cheese), this version also sneaks in nutrient-rich spinach, though any vegetable will work. Add in or substitute chopped bell peppers, broccoli, green peas, tomatoes and other greens depending on your family's preference.

I created this recipe for my 2-year-old niece, a somewhat picky eater who requests mac and cheese almost daily. My sister wanted a pasta dish that she could feed her fairly often without relying on a stick of butter and cups of heavy cream. After a few attempts, this lighter version was born, receiving two thumbs up from both my niece and the rest of the family.

While it's tempting to use fat-free versions of both the cottage cheese and Greek yogurt, I recommend the low-fat options listed here. The fat-free dairy options create a bland, watery casserole without the creamy mouthful as the higher fat options.




Cheesy Mac & Greens
Serves 8

Ingredients
16 ounces macaroni elbows (whole wheat if preferred)
12 ounces baby spinach leaves, lightly torn
2 large eggs
1 3/4 cups low-fat cottage cheese
1 cup low-fat plain Greek yogurt
3/4 teaspoon salt
Fresh ground black pepper
2 1/2 cups shredded cheddar cheese, divided

Directions
Heat the oven to 350°F. Spray a casserole dish with nonstick spray.

Bring a large pot of water to boil. Add in the macaroni and cook until just al dente.

While the pasta is boiling, lightly tear the spinach leaves into smaller pieces and place into a large mixing bowl and set aside.

Place the eggs, cottage cheese, Greek yogurt, salt and a pinch of freshly ground black pepper in the base of a blender and puree until the cottage cheese is creamy and no lumps remain. Add in 2 cups of the shredded cheddar cheese and pulse until just combined.

Once the pasta is finished cooking, drain then immediately add the pasta to the bowl with the torn spinach. The heat of the pasta should heat the spinach until it's just wilted. Don't worry if it doesn't completely wilt, it will after cooking. Add in the puréed cheese sauce and toss until combined.

Pour the mixture into the lightly greased casserole dish, then cover with foil. Bake, covered, for 30 minutes. Remove the foil and sprinkle the remaining ½ cup of cheddar cheese on top. Bake, uncovered, for another 10-15 minutes until cheese is bubbly and melted.

Remove from oven, let cool slightly, then serve. Refrigerate any leftovers.

Photo Credit: Alex Caspero