On Halloween, candy reigns supreme but it doesn't have to be the only treat in your house this year. These boo-nana popsicles are a fun project for both kids and adults, and delicious to boot! Sliced banana dipped into a slightly sweetened yogurt mixture with chocolate chips for eyes. If you like yogurt-based popsicles and frozen treats, you will love these boo-nana pops.
While you can use either Greek or regular yogurt, I prefer the traditional kind as it's thinner and freezes better than the Greek variety. I've used both and can attest that either will work, but if you prefer more protein in your dessert, use the former.
These boo-nana popsicles are the perfect spooky treat to celebrate October. Enjoy the popsicles right away, they will become messy as they melt!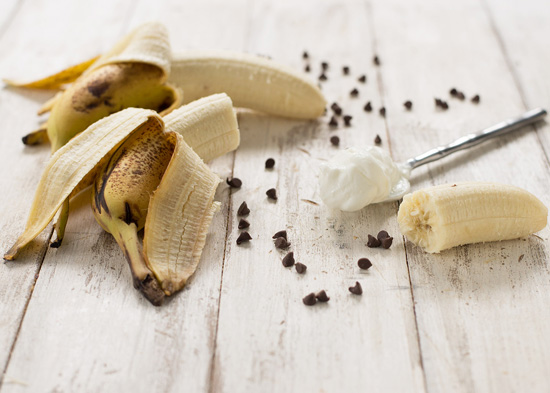 Boo-Nana Popsicles Recipe
Makes 12 popsicles
Ingredients
2 cups vanilla yogurt
2 tablespoons honey
6 bananas
24 mini chocolate chips or raisins
Popsicle sticks
Parchment/Wax paper
Instructions
Line two baking sheets with parchment paper and set aside.
Whisk together the yogurt and honey until smooth.
Peel bananas and slice in half. Carefully insert a popsicle stick into the cut end of the banana, taking care not to poke through. Place on the baking sheet and freeze for 30 minutes, this will make it easier to dip into the yogurt without breaking.
Remove the bananas from the freezer and dip a banana into the yogurt mixture, shaking off any excess. Place on the baking sheet and add two chocolate chips for eyes.
Continue with the rest of the bananas.
Freeze for at least two hours or until solid.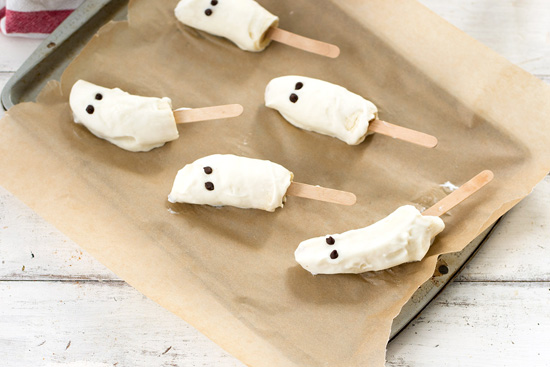 Per popsicle: 111 calories, 1.7g fat, 1.2g saturated fat, 3mg cholesterol, 32mg sodium, 322mg potassium, 21g carbohydrates, 1.7g fiber, 15g sugars, 3.4g protein
Photo Credit: Alex Caspero