Taquitos were one of my favorite snacks growing up. My mom would buy them in bulk at Costco for easy heating after school or an after-dinner snack. Typically filled with cheese and meat then deep fried, traditional taquitos are anything but healthy. That's changed with this vegetarian recipe, filled with corn kernels, fiber-rich black beans, green chilies and spices. Baked, not fried, these are a delicious treat that can be enjoyed whenever the mood strikes.
To make the taquitos, microwave or gently warm a tortilla one at a time so it's pliable enough to easily roll up. Place a few tablespoons in the middle of the tortilla, then roll and place seam side down onto a baking sheet. Toast until crispy, then serve with whatever toppings you like.
Black Bean and Corn Taquitos

Ingredients
2 teaspoons olive oil
2 scallions, sliced
1 shallot, finely diced
1/4-1/2 teaspoon salt
1 teaspoon smoked paprika
1 teaspoon garlic powder
2 tablespoons chili powder
1 (15 ounce) can black beans, drained and rinsed
1 (4 ounce) can diced green chilies
1 cup frozen corn kernels, thawed
1 cup shredded cheddar cheese
12 small corn tortillas
Directions
Preheat the oven to 325 degrees F.
In a large skillet, heat the oil over medium heat. Add the scallions, shallots, salt and spices and cook until mixture is softened, about 2-3 minutes. Add in the beans, corn and chilies and cook until heated through. Remove from heat and stir in the cheese until melted.
To make these taquitos super easy to roll, warm each tortilla in the microwave for 10 seconds until just softened. Don't bulk warm the tortillas as they won't hold the heat and they will break. Place the softened tortilla on a cutting board and add a few tablespoons of the filling lengthwise on the tortilla, then roll as tightly as possible. Place seam-side down on a baking sheet and repeat with the remaining tortillas.
Bake until golden and crispy, about 14-16 minutes. Serve with salsa or whatever toppings you like!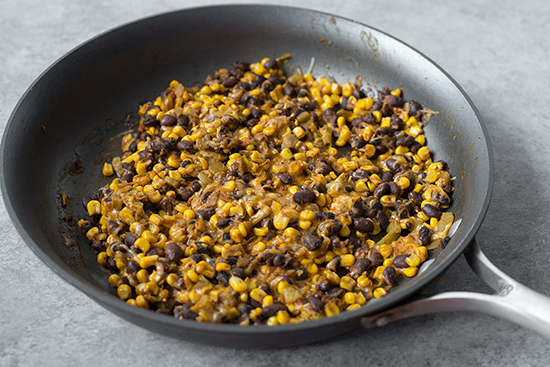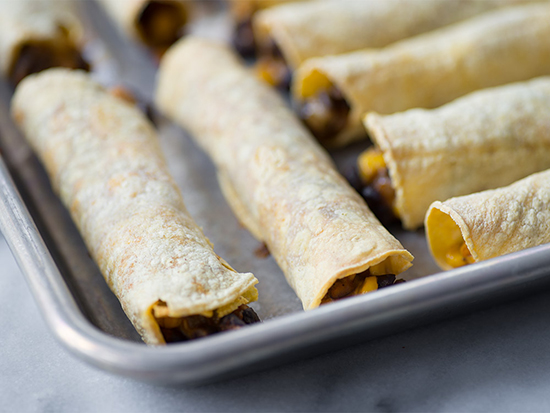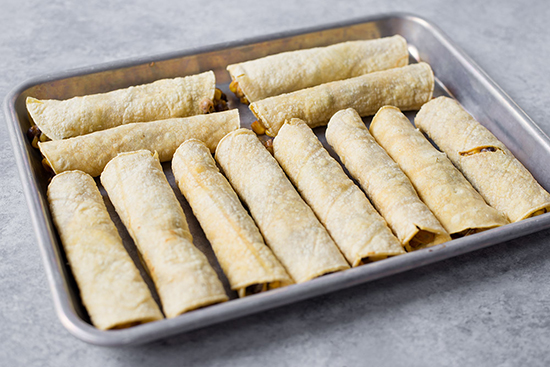 Nutrition Info
Per taquito: 149 calories, 5g fat, 2g saturated fat, 0 mg cholesterol, 280mg sodium, 21g carbohydrates, 7g protein
Photo Credit: Alex Caspero