When people think fruits, vegetables and salad I'm not sure sexy comes to mind, but it should! Let me show you how to wow your next dinner guests with this very easy, but stunning AppleCado & Smoked Salmon Salad.
The trick to this salad is preparation. If you have everything cut and ready it can be made very quickly. A little knife work in the beginning will get the job done quickly.
You can even make the salads 30 minutes in advance, but remember to save the avocado until the very end.
Apple + Avocado & Smoked Salmon Salad
Serves 4
Ingredients
1 Carrot – raw, peeled and ribbons made with peeler
½ Avocado – fresh, melon balled , about 8 balls – keep uncut until ready to use
⅛ tsp – Dill Weed, fresh, fronds gently pulled from stem
½ cup – Apple, Granny Smith, thinly sliced half moons
1 tsp – Capers
1 tbsp – Red Onion, paper thin slice – 1/2" long
2 tbsp – Sour Cream, thinned with cold water
4 oz – Smoked Salmon or Gravlax
1 Lemon – half cut into wedges, other half squeezed into water for apples
Directions
Prep
In a small bowl of cold water squeeze half the lemon juice.
Cut apples into thin slices and immediately place into lemon water to prevent browning
Using peeler, create thin ribbons of carrot – set aside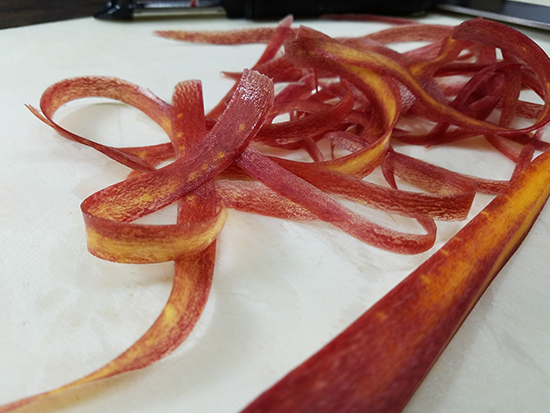 Thinly slice onions, paper thin and only ½" long. They are for color and pops of flavor.
Thin sour cream in small bowl with sprinkles of cold water and stir well until a sauce consistency is reached.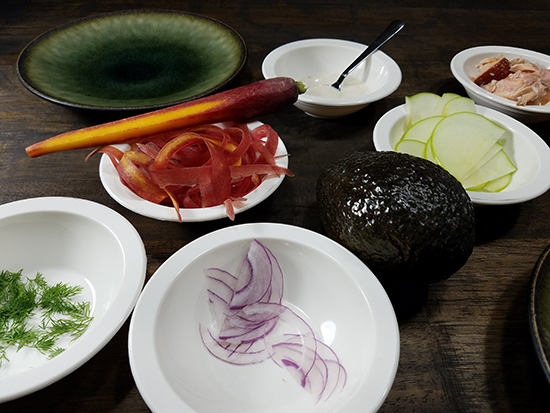 Build plates
Lay 5 thin apple moons on plate in a feather fan with flat side on plate and round skin side up.
Place down a 2-3 carrot ribbons next to the apples.
Place 2-3 onion slices randomly in carrots.
Place small bite-size bits of smoked salmon on plate.
With melon baller, scoop out two avocado balls and lay them randomly next to carrots ribbons.
Sprinkle a few capers and dill fronds on top of salad.
With spoon, swirl of sour cream around the plate.
Serve with a lemon wedge and sprinkle of kosher salt.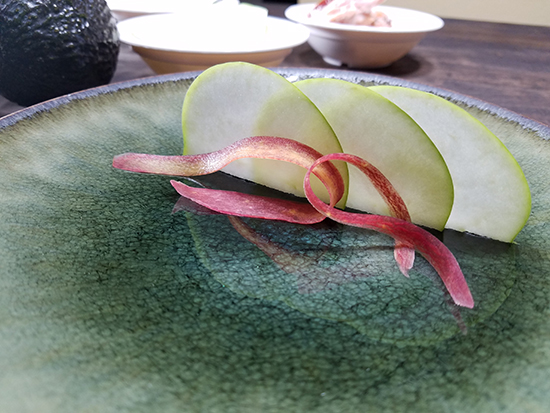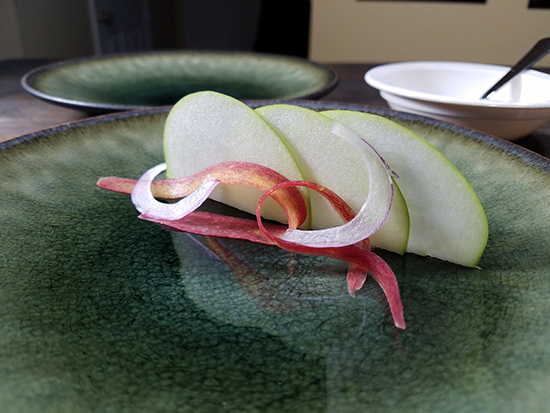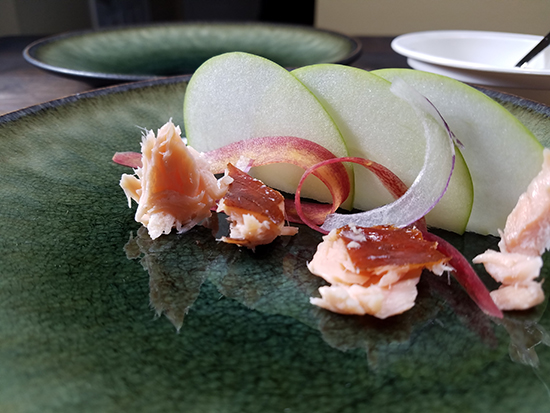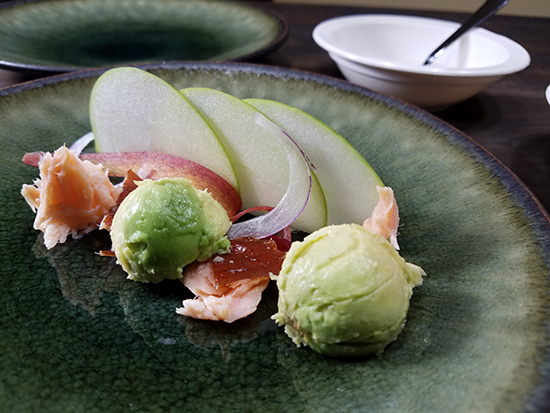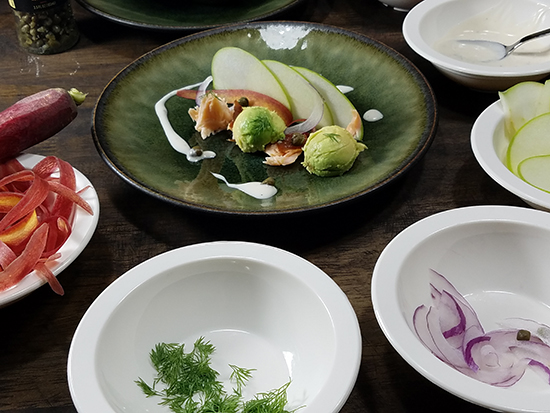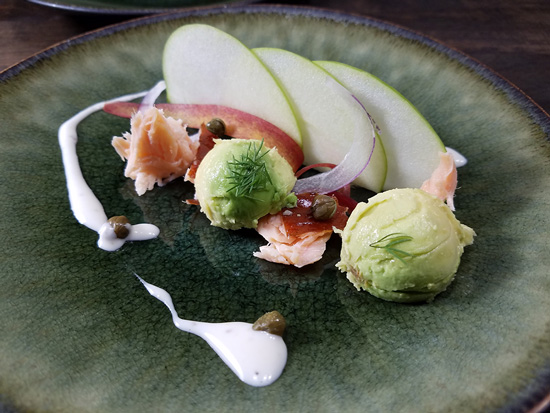 Nutrient Analysis
Calories: 107 kcal, Protein: 7 g, Carbs: 6 g, Total Fat: 6 g
Sat Fat: 3 g, Cholesterol: 20 mg, Sodium: 175 mg, Fiber: 1.7 g
Photo Credit: Andrew Dole