Alex Caspero, MA, RD, CLT
Everyday Chef, Fruits & Veggies—More Matters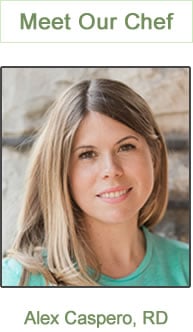 As a kid, I begged my mom to change my middle name from 'Marie' to 'Strawberry.' The Strawberry Shortcake doll was in its heyday and I so badly wanted to be her, hanging out with Huckleberry Pie, Blueberry Muffin and of course- eating strawberries all day long.
Fast-forward thirty years and not much has changed. While I may not aspire to be an animated six-year old anymore, I still celebrate the arrival of strawberry season every spring. I'm beyond fortunate to have made my home in the middle of the California strawberry growing valley, which means from May-July, I pass a dozen stands selling fresh strawberries on my way home from work. Swoon. I will never tire of juicy, red, ripe strawberries.
While my favorite way to prepare these beauties is tossed with a splash of balsamic vinegar, I know that bowl after bowl of berries can become boring. That's why I'm sharing 5 of my favorite ways to enjoy strawberries. From breakfast to snacking to lunch and dinner, strawberries shine in both sweet and savory dishes.
Steps for keeping strawberries fresh:
After purchasing berries, check any berries for mold and throw them away. If the moldy berries are left with the good berries, the mold will spread.
Don't wash strawberries until just before eating. If there are any green stems on your berries, keep them on until just serving. Washed berries will retain water and get soft over time (Same goes for other berries)
Get out a storage container that has an airtight lid. Place a paper towel at the bottom of the container to help absorb any moisture. 
Lay strawberries on the paper towel without crowding them.
Set another paper towel over the first layer of strawberries, and then place more strawberries on top. Layer as many berries as you wish, taking care not to smash the strawberries when you put the lid on.
Seal the container and place in the fridge! While it takes a little bit of time, preparing strawberries this way will help extend the life of your fresh berries for a week!  
My Recipes
Baked Oatmeal with Strawberries

This baked oatmeal is my favorite weekday breakfast. I like to make a big pan of it over the weekend and heat up in the morning. Enjoy as is or serve with extra milk and fresh berries.

Ingredients
1½ cups quick cooking oats
¼ cup packed brown sugar
½ tsp. cinnamon
1 tsp. baking powder
¼ tsp. salt
2 tbsp. ground flax seeds
4 tbsp. water
½ cup milk
⅓ cup 100% pure maple syrup (not the artificial stuff)
2 tbsp. melted butter
¼ cup chopped walnuts
1 large ripe banana

Instructions
Preheat oven to 350 degrees F.
Lightly spray a 8 inch square pan with non-stick spray.
Slice bananas and place in a single row on the bottom of the square pan.
In a small bowl, mix together the ground flax seed and water and let sit for 5 minutes until slightly gelled.
In a separate mixing bowl, combine the oats, brown sugar, cinnamon, baking powder and salt.
Add in the flax seed mixture, almond milk, maple syrup, and butter.
Stir together and add in the chopped walnuts.
Gently top the oatmeal mixture on top of the layered bananas.
Place in the oven and bake for 30 minutes until golden brown and set.
To serve, scoop ¼ of baked oatmeal into a bowl and top with strawberries and milk.
Beet and Berry Salad

Roasted beets and strawberries are the perfect sweet and savory combination, especially when paired with a homemade poppy seed dressing. This salad is packed with nutrients and perfect for lunch or dinner.

Ingredients
2 medium beets
½ tsp. oil
6 cups arugula
1 cup strawberries, sliced
¾ cup blueberries
⅓ cup slivered almonds

Poppyseed Dressing
3 tbsp. mayo
2 tsp. dijon mustard
2 tbsp. olive oil
1 tbsp. apple cider vinegar
2 tbsp. lemon juice
1 tbsp. 100% pure maple syrup
1 shallot, finely minced
1 tbsp. poppy seeds

Instructions
Preheat the oven to 400 degrees F.
Scrub the beets and place on a sheet of aluminum foil. Drizzle with ½ tsp. olive oil and sprinkle salt. Wrap completely and place in oven to roast about 1 hour until tender. Let cool, remove foil and use a paper towel to rub skin off. Set aside to cool then thinly slice. Beets can be made up to 4 days ahead of time.
Toss together arugula, sliced beets, strawberries, blueberries, and almonds.
Whisk together mayo, Dijon mustard, olive oil, apple cider vinegar, lemon juice, maple syrup, shallot and poppy seed. Season to taste with salt/pepper.
Divide salad among 4 plates and drizzle on dressing.
Berry & Coconut Cream Parfait
This parfait is great for either breakfast, snack or dessert. I like to use coconut cream to make homemade whipped cream, but feel free to substitute regular whipped cream if you're short on time. To make these even more special, add in homemade coconut groat clusters or your favorite granola.

Buckwheat Groat Clusters
1 cup buckwheat groats
½ tsp. cinnamon
⅛ tsp. salt
3 tbsp. maple syrup
2 tbsp. almond butter (or other nut butter)
2 tbsp. coconut oil (room temperature)
¼ tsp. vanilla extract
¼ cup unsweetened shredded coconut

Parfait Ingredients
1 can full fat coconut milk (or coconut cream) placed in the fridge overnight
1 container strawberries, sliced

Instructions
Before making, make sure your can of coconut has been placed in the fridge for at least 6 hours, preferably overnight.
Preheat oven to 300 degree F.
In a large bowl, mix together buckwheat groats, cinnamon and salt.
Whisk together the maple syrup, coconut oil, almond butter and vanilla extract.
Pour over the buckwheat mixture and stir together.
Add the shredded coconut.
On a baking sheet lined with parchment paper or a silpat, pour out the grouts.
Baked for 25 minutes until golden brown.
Remove from oven and let cool. Break into clusters and set aside.

Coconut Cream
After opening the can, scoop out the top half of the solidified coconut on top. Make sure you are only getting the solid coconut, not the water underneath. If you are using coconut cream, you will use the whole can. Whip together with a hand mixer.
To serve, layer the berries, coconut cream (about a tbsp. or two) and fresh berries.
Strawberry Spring Rolls
Fresh strawberries pair well with vermicelli noodles, tofu, and spicy almond dipping sauce.

Parfait Ingredients
4 oz. vermicelli noodles, cooked
½ cup thinly sliced strawberries
⅛ cup finely shredded basil leaves
8 oz. tofu, rinsed, pressed, and thinly sliced
8-10 Rice Spring Roll Papers

Peanut Dipping Sauce
⅓ cup hoisin sauce
3 tbsp. creamy peanut butter
3 tbsp. water
1 tbsp. fresh lime juice
1 tsp. soy sauce

Make the Sauce
Whisk together sauce ingredients in a bowl until smooth. Set aside.

Make the Spring Rolls
Prep the strawberries, tofu, and noodles.
To assemble spring rolls, pour very hot water into a shallow dish and place 1 rice paper to soften for about 10-15 seconds.
Move to a cutting board and spread out into a circle. It's OK if it rips a little but if it rips too much, get a new one and start again.
Layer the strawberries, tofu, noodles, a few basil leaves on the bottom third of the paper. Gently fold over once, tuck in edges, and continue rolling until seam is sealed. (like a burrito!)
Place seam-side down on a serving platter and cover with damp warm towel to keep fresh. Repeat until finished, you should have about 8-10 spring rolls total.
Serve with peanut sauce.
Leftovers store well individually wrapped in plastic wrap, though taste best when fresh.
Balsamic Berry Bruschetta
Looking for a impressive, yet simple, appetizer for your next get together? Try this bruschetta! Whipped ricotta with fresh strawberries and drizzles with balsamic reduction. If you can't find balsamic reduction, use a light splash of balsamic vinegar instead.

Ingredients
1/2 baguette, thinly sliced
1 cup ricotta cheese
1 cup strawberries,
Balsamic reduction, for drizzling

Instructions
Preheat the oven to 300 degrees F. Slice the baguette thinly and spread on a baking sheet. Toast in the oven for 8 minutes or until lightly golden brown, flipping the crostini over halfway through.
Use a stand mixer or a handheld mixer (with a whisk attachment, if you have one) to beat the ricotta until it forms a smooth, light spread.
Spread a generous amount on your crostini.
Top with strawberries and drizzle with balsamic reduction.
Photo Credit: Alex Caspero