Setting intentions is a powerful way to bring more of what you want into your life. A new year offers a fresh start and a chance to think through our priorities and goals. Often, new year's resolutions center around restrictions that can make us feel deprived instead of on new habits and behaviors that can make us happy. As you make your vision board or set up your bullet journal, think about how you can invite more of what's good into your life. A good place to start is to set an intention to eat (and enjoy!) more fruits and vegetables. Check out our tips to help you eat and love more fruits and veggies to fuel the life you want.
Use them as a Topping
Often when people think of eating more fruits and vegetables, they think of salads, carrot sticks, or a big ol' apple. We love those foods! They're healthy, delicious, and refreshing! But — there are other flavorful ways to fit more plants into your diet. Fruit- and vegetable-forward condiments and sauces are a great way to add a bit more to your day effortlessly. Think of salsas, chutneys, pesto, pickled vegetables, and more as a simple way to add flavor and brightness to your meals and snacks.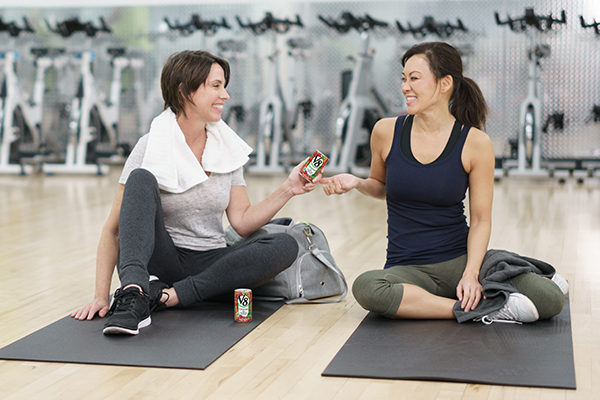 On the Go
Hoping to spend a little less time at home this year? We hope so, too, so make sure you have options that make it easy to get your fruits and veggies in on the go. Portioning out fresh-cut fruits and vegetables is a great way to enjoy them on the move. It's also a good idea to keep more convenient options handy like V8® 100% vegetable juice, veggie-packed Well Yes!® Sipping soups, smoothies, or Emerald® 100 Calorie Packs to help you stick to your goals, even when you're not at home.
Plant-Forward Pantry
How can you make sure you're sticking to your fruit and veggie intentions for the long term? Make it easy to eat more. Convenience is key when it comes to sticking to a new habit. Stocking your pantry with fruits and vegetables makes it easier to eat more, even if you don't have any of the fresh stuff on hand. Snacking and recipe staples like fruit cups, canned vegetables, and beans are essential to helping you fit more plants into your meals. Keep veggie-forward soups on hand like Well Yes!® Black Bean & Vegetables soup, Tomato & Sweet Basil soup, and others for convenient and delicious lunchtime options. You can also take a look at your sauces. Products like Prego®+ Hidden Super Veggies can give your meals a veggie boost with a family-favorite flavor.
In Your Meal Plan
It's easy to fall short on good intentions if you don't have a plan in place. Take time each week to plan out your meals and snacks so that you are set up for success. As you choose your recipes, include fruits and vegetables in the entrée or side dish for every meal. Work towards making at least half of your meal plan fruits and vegetables. Adding veggies in the morning to a smoothie or omelet is a great way to get a jump on the daily recommendations. Mixing beans or mushrooms into your meat dishes is another easy way to add more plants to your meals (and save money). Over time, you'll get more creative with how you work them in, just be open to experimenting. They can be fresh, frozen, canned, dried, or 100% juice, depending on your lifestyle and needs for that week. Planning out your meals and using different forms of fruits and vegetables can make it easier for you to enjoy a variety.
We hope that 2022 is the year of more — more time with friends and family, more celebrations, more happiness, and of course, more fruits and vegetables! Setting realistic goals and thinking through how you can meet them is the best way to make sure your intentions become a reality. Keep "more" in mind as you set your goals this year because you deserve to enjoy more of what's good!