One thing I always find myself in search for this time of year is the need for inspiring back-to-routine meals! Whether it's packing meals or eating at home, both your kids and YOU are going to need some great recipes that are not only tasty and nutritious, but simple and convenient too. And coincidentally, delicious, simple, and convenient are my mantras when it comes to food!
While there's nothing wrong with a good 'ole PB&J sammie, we do want to make sure we are bringing in balance with deliciously nutritious fruits and veggies! And eating balanced is really quite simple (so don't feel like that's an additional thing you need to busy yourself with). Following MyPlate is, in my opinon, really the simplest way to make sure you get all the nutrients you need in the correct portions. So, when planning your meals, keep in mind filling ½ your plate with colorful fruits and veggies, ¼ plate with grains (preferably whole grains!), and ¼ of your plate with lean protein.
For the kids (or adults too!)
Bento boxes! The perfect vessel to bring balance, creativity, and keep foods from touching! You can do anything from a pizza box to a kiddie charcuterie box, but my personal fav is a taco box! Black beans, shredded cheese, avocado slices, cherry tomatoes, and corn tortilla chips is all you need for a #kidapproved and balanced lunch!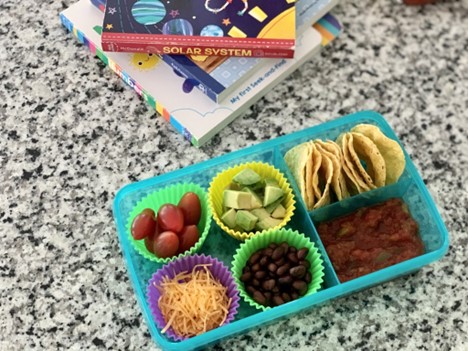 For the adults (or kids too!)
I, personally, am a fan of hot meals, so I like to add hot items to my salad for a lunch to look forward to! Recruit leftovers and heat-and-eat products for a quick, nutritious, and delicious meal! I stock up on items that are versatile and can be mixed and matched with other ingredients for something new each time!
Here are my go-tos for each food group:
Veggies: bagged salads (green mixes, spinach, or kale), mini sweet bell peppers, precut beets, something pickled (kimchi, red cabbage, red onions), leftover roasted veggies
Fruits: berries, apples, mandarins, dried fruit, tomatoes, avocadoes
Protein: leftover meat/chicken, rotisserie chicken, canned tuna, canned beans, tofu, hardboiled egg, edamame, nuts and seeds, cheese
Grains: microwavable grain (brown rice, quinoa), bean-based pasta, whole grain pasta, sweet potato, corn
With all of those options, you can pull together something like this: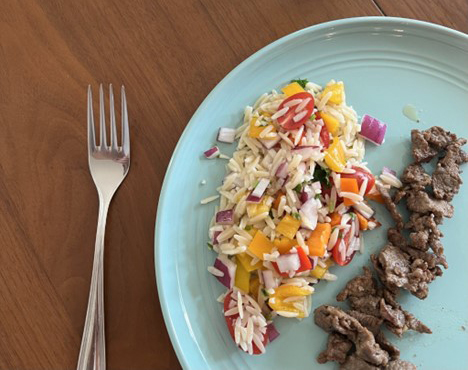 Pictured: Pre-cut veggies, bagged spinach, cherry tomatoes, leftover whole wheat orzo, and leftover stir-fry beef!
Here's to an easy, tasty, nutritious, and successful back-to-busy season!