Eggplant is one of my favorite summer veggies.   Eggplant is a member of the "nightshade" or potato family, which also includes tomatoes and hot peppers.  While dark purple is the most common color of eggplant, you can also find white, striped or green shades.  These veggies are low in calories, fat free and often used as a substitute for meat in many dishes.  They are also a good source of fiber.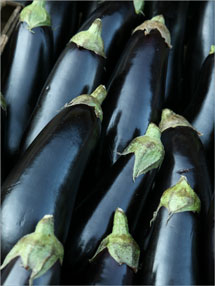 Eggplant is a delicious veggie, but unfortunately, most folks don't think past the typical "eggplant parmesan" recipe.  Eggplant can be prepared in so many ways–grilled, stuffed, baked and broiled.  Fruits & Veggies–More Matters has their Top 10 Ways to enjoy eggplant and I'll bet you never thought of using slices of eggplant as the basis for a pizza.  There's also a great recipe for Baba Ganoush, a savory spread made from eggplant, herbs and spices that you'll enjoy on pita chips.  I've also collected a few other interesting recipes.
Simple and delicious is how I would describe this recipe for Balsamic Grilled Eggplant.  In addition, you'll only use four ingredients–eggplant, olive oil, balsamic vinegar and a bit of Italian seasoning.  An added bonus is a serving of this dish is only 67 calories!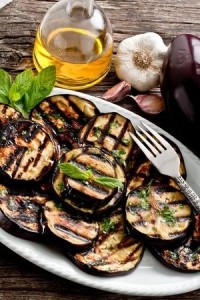 Photo courtesy of The Nutrition Twins
Imam Bayildi or stuffed eggplant is a popular Turkish dish and is filled with an interesting combination of ingredients that include onion, garlic, bell pepper, pine nuts, feta cheese, lemon, parsley, sugar and cinnamon.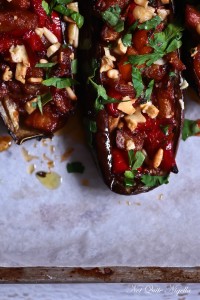 Photo courtesy of Not Quite Nigella
Ratatouille is a popular French dish featuring summer vegetables, including eggplant, simmered together with herbs.  It can be served as a side dish or over pasta as an entrée.

Photo courtesy of Real Simple
Finally, for those who love their eggplant parmesan, here is a healthier alternative–Grilled Eggplant Rollatini.  Many of the traditional eggplant rollatini recipes still use the frying method for the eggplant slices, so I like that this version has you throw the slices on the grill for 5 minutes per side.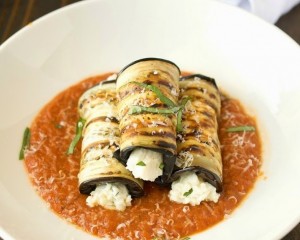 Photo courtesy of Culinary Ginger
I hope you'll explore these different eggplant options this summer or share with us some of your own favorites.  I'll be back next week with some no-guilt frozen desserts that can help to keep you cool during those hot summer days.
See all posts