Topping the list of popular fall produce are sweet potatoes and yams.  While they are available year round, they are particularly popular in autumn with the fall holidays, like Thanksgiving, when they are featured as side dishes.  Sweet potatoes and yams are actually two different vegetables.  While they are similar, yams are from a different botanical species and are starchier and drier than sweet potatoes.  Both are a nutritious addition to your menu–they are fat free. cholesterol free, low in sodium, a good source of fiber, high in vitamins A and C, and a good source of potassium.  We typically think of the traditional sweet potato or yam casserole, but there are other tasty ways to use these delicious veggies.
Roasted Sweet Potato and Black Bean Chili is a great way to warm up on a chilly evening.  It's also a delicious meatless meal.  You'll use cubed sweet potato, diced onion, olive oil, diced red bell pepper, minced garlic, vegetable broth, two cans of fire roasted tomatoes, corn (cut from the cob), two cans black beans, chili powder, and cumin.  You'll need to bake the cubed sweet potatoes and set them aside. Sauté the onion, bell pepper, and garlic and add the remaining ingredients.  Bring the soup to a boil and then reduce the heat and let simmer for `5 minutes.  Add the sweet potatoes at the end and let heat through.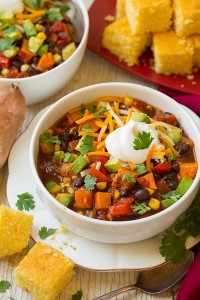 Courtesy of Cooking Classy
Roasted Sweet Potato Salad puts a new spin on potato salad.  This version calls for you to start by roasting your cubed sweet potatoes.  Then, combine black beans, chopped bell pepper, green onion, and cilantro.  You'll create a dressing with honey, Dijon mustard, olive oil, lemon juice, cayenne pepper, and salt/pepper to taste.  Mix all ingredients together–this salad can be served warm, at room temp, or chilled.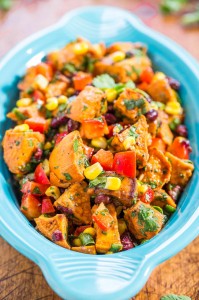 Courtesy of Averie Cooks
Crispy Yam Tacos with Chipotle Dip will satisfy your Tex-Mex cravings.  You'll cut the yams into finger sized slices and coat with salt, pepper, paprika, and polenta.  Bake in a 400 degree oven for 20 minutes until cooked through. Make the chipotle spread by combining the Hellman's spread with seal salt, lime juice, smoked paprika, and can of chopped chipotle peppers.  Prepare salsa by combining diced grape tomatoes, green onions, two cloves garlic, diced red pepper, diced jalapeno pepper, chopped cilantro, and olive oil.  Serve yams with salsa, cabbage slaw, salsa, chipotle dip, and sour cream.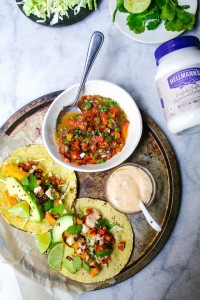 Courtesy of Blog Lovin
I'll be back next Monday with some great ways to use cauliflower in your menus.
See all posts